Caring for the Vulnerable During COVID-19
As COVID-19 rages on in the United States, Greater Good Charities is working with partners all around the country to protect our most vulnerable populations. While we do not know the full effects of COVID-19, we know that by providing hand sanitizer to people experiencing homelessness and those living in interim housing sites that make social distancing difficult, we are significantly reducing the spread of COVID-19 among this vulnerable population.
LA Family Housing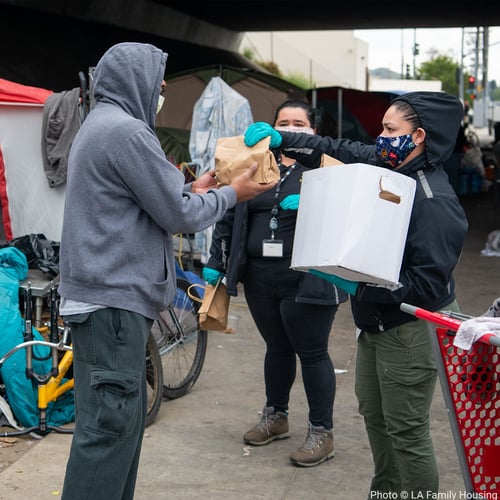 LA Family Housing (LAFH) is a regional leader in providing solutions to end homelessness, and a Greater Good Charities partner. Their mission is to help people transition out of homelessness and poverty through a continuum of housing enriched with supportive services.
Each year, LAFH provides housing and supportive services to over 11,000 men, women and children experiencing homelessness, and secures permanent homes for 2,200 people, achieving an above-average 94% housing retention rate.
With the help of donors like you, Greater Good Charities and LAFH provided hand sanitizer to 1,000 individuals experiencing homelessness, helping protect them against COVID-19 and prevent the spread of this deadly virus.
Threat of COVID-19
As COVID-19 began to pose a threat to the community, outreach workers noticed that the people they spoke to were very concerned about their health and safety, and didn't know how to protect themselves. Through your donations, we were able to respond to this need. LAFH staff brought in hand sanitizers, hand-washing stations, masks and gloves to people living outdoors. In addition to keeping them safe, this helped to build trust among unsheltered populations—a key step in the process of getting them into interim housing facilities.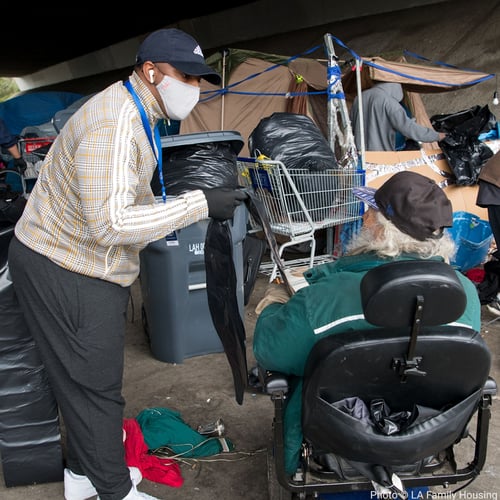 Your continued support of Greater Good Charities not only provides needed items, it also allows relationships to grow. Many people have lost their faith and trust in the homeless services system, and items like hand sanitizer go a long way in helping to rebuild that trust and help individuals begin their path toward permanent housing and stability.
"On behalf of the staff and participants at LA Family Housing, thank you for helping keep us safe through this generous donation," Hilary Mandel, director of grants at LAFH, said.