Cat Pawsitive Pro to Foster Positive Changes for Shelter Cats and the People Who Care for Them
By Yasaar Nakchbendi of ChirpyCats.com

Angels of Assisi

When staff at Angels of Assisi learned about Cat Pawsitive Pro (CPP), they were very excited to come on board a structured program just for cats. Angels of Assisi operates the largest private animal shelter in Roanoke Valley, Virginia, and this will be their first time participating in the CPP program.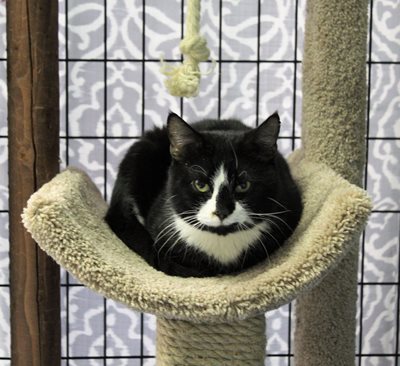 The team is especially excited about the program because they believe it's in perfect alignment with their vision: striving to be a resource and benefit for the community and the pets they love.

"We believe this program will help our mission of changing the traditional definition of an animal shelter by having a warm and safe environment for cats, as well as having staff and volunteers dedicated to meeting their needs and increase their chances for adoption," says Executive Director Lisa O'Neill.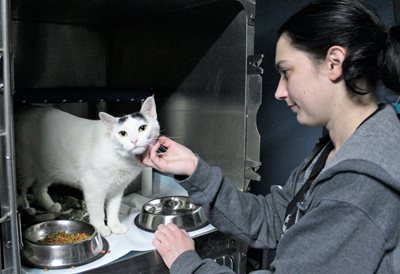 The shelter has always practiced enrichment in some form or another but had no formal plan that was specifically geared towards cats. Lisa is very optimistic that having a set program in place is going to be a game changer for the cats and those who care for them. She also believes that participating in the program will attract more funders, volunteers and cat lovers in the community who are often caught up in the "whirlwind" of mainly dog activities at the shelter.

"In addition to decreasing stress in cats and increasing adoptions, we believe this program will benefit our cat lovers as much as the cats!" says Lisa.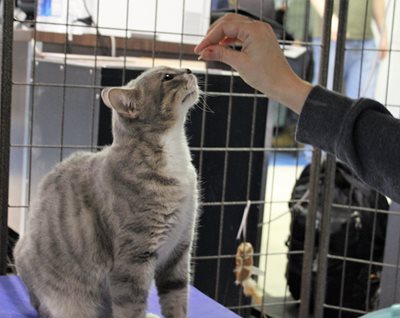 Sara Russell, the Trainer-Mentor assigned to Angels of Assisi for the CPP program, is happy to crush stereotypes about training cats. "I'm so excited to be a part of this year's program. I fell in love with clicker training when I learned that the science behind it worked with all species including cats! So often people think that cats can't be trained, and I feel that with something as simple as teaching a cat to "high five" we're breaking stereotypes and helping to improve the bond between owners and their cats. I wish this program had been around when I first started in the shelter over a decade ago!" she says.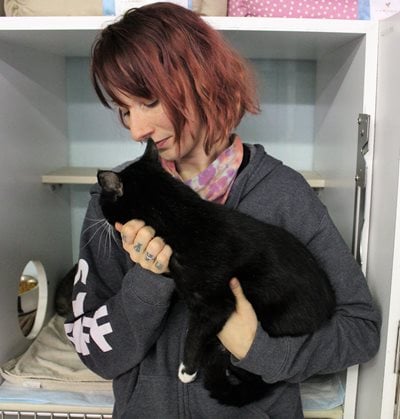 Matthew Brown, Director of Lifesaving Operations and Team Leader, whose passion is working with animals, is hopeful that CPP will enable them to build a long-term program to help the most at-risk cats find a positive outcome. "CPP will help the often overlooked cats gain the confidence and skills they need to find the right home faster," he says.

Simply Cats Adoption Center

Simply Cats Adoption Center is a no-kill shelter located in Boise, Idaho. The team prides itself on being at the forefront of the industry. The team embraces the Cat Pawsitive Pro program as a positive platform to reinforce to supporters and potential adopters of their dedication to the cats in their care.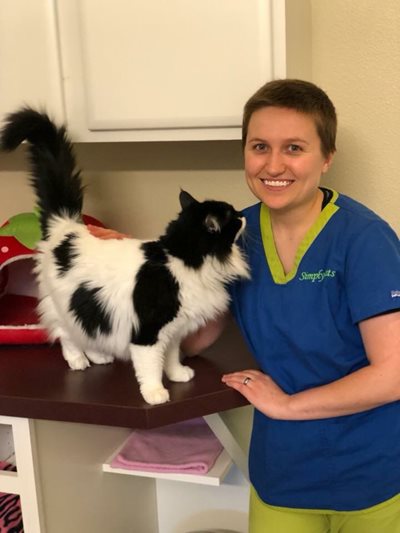 When asked about how the program will align with some of the shelter's current programs, Executive Director Patty Cutler is optimistic about the changes it will bring. "Cat Pawsitive Pro certainly takes our enrichment program to the next level. It helps cats become more adoptable, therefore also helps our overall adoption program with regards to successful adoptions and saving more lives. I believe that this will also shorten the length of stay for those residents that are more difficult to adopt out."

Trainer-Mentors Samantha Bell and Molly DeVoss cannot wait to kick start the semester and train some kitties! "We are so excited to be working with Simply Cats. What an amazing facility and enthusiastic staff and volunteers! The peek we've gotten of the cats we'll start out with is super inspiring to us."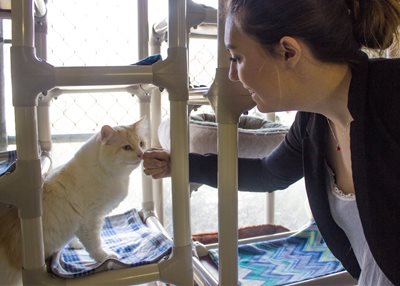 Emily Biancavilla, Shelter Assistant and Team Leader, started with Simply Cats in 2015 as a volunteer and loves that it's a cageless, no-kill, feline-only adoption center with plenty of cat furniture and catios for the cats to enjoy fresh air. She feels cats are misunderstood and this drives her to educate people about their unique ways and different personalities. "I feel confident about working with cats with behavioral issues. It's like a fun puzzle where you have to figure out the cause of the issue and work to solve it. I find it very rewarding to help cats that are struggling, because they need help the most," says Emily.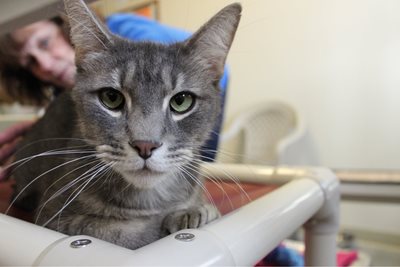 Team Leader Deb McDougall hopes to see the Cat Pawsitive Pro cats spend less time at the shelter waiting for their forever homes. "The shyer, less socialized cats speak to my heart. Over the years, I've watched them learn to trust with lots of time, love, and kindness," says Deb.

The Team Leaders already have a few cats in mind that they feel would be perfect candidates to participate in CPP. Ranging from shy, to aggressive, to bored, these cats will have their work cut out for them! "We have a cat who I believe is extremely intelligent and slightly bored named Roxanne. She tends to get over stimulated by petting fairly quickly, so a different way for her to release energy, such as with training, may be a better option for her in the shelter setting," says Paige Szathmary, Volunteer Coordinator and Team Leader.
Charlotte is another resident that the team thinks will benefit hugely from Cat Pawsitive Pro. She has been a bit aggressive since they brought her to the shelter. But while she seems to get better with people, she still spends a lot of time either hiding in a drawer, or outside in the catio. "I think she could definitely use some training, and I imagine she will still be at the shelter by the time we start training," says Emily.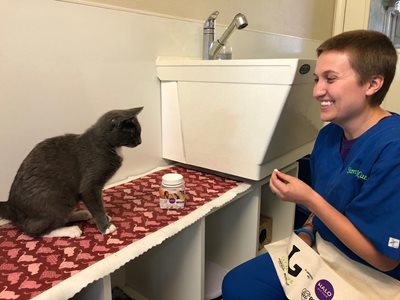 While the length of stay for cats at the shelter is quite low, on average 22 days, they have a few who stay for a year. The team is confident that CPP is the perfect solution to help their long-term residents stand out from the crowd, get noticed, and get adopted!

New Beginnings Animal Rescue

Founded in 2010, New Beginnings Animal Rescue is located in Royal Oak, Michigan, and is an all-cat rescue with a very simple motto, "Cats Rule." Shelter staff is excited to start training with Cat Pawsitive Pro because they believe it will positively engage the many challenging cats in their care.

"A more calm and engaging cat has a 100% better chance of getting adopted. Also, the mental well-being of every cat is important here and the longer they stay, the more that gets impacted," says Team Leader and President Lisa Hill, who has worked with cats her whole life and started New Beginnings Animal Rescue 8 years ago. Lisa loves a challenge, so working with cats with behavioral issues is something she enjoys. She finds it incredibly rewarding when they "flip the switch" and finally rebuild trust in humans.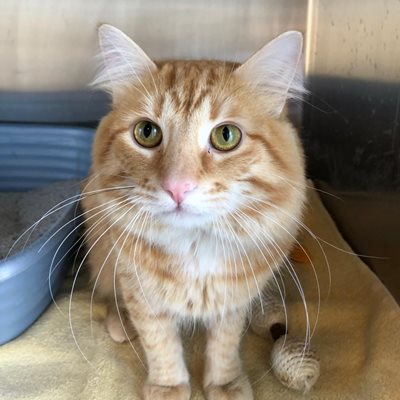 Through Cat Pawsitive Pro, Lisa is excited about being able to provide both volunteers and fosters new tools to help in their endeavors to socialize cats and kittens. Her goal is finding a quicker way of taming feral kittens and a new way of approaching scared or "fractious" adult cats.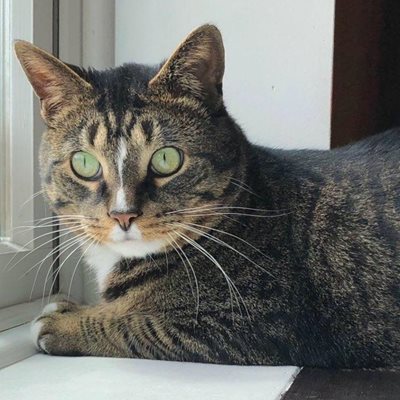 "For me personally, I want to work with the most fractious or shut-down cases," says Lisa. The team hopes to make some progress with cats rescued from a hoarding situation as well as with Ty Ty, a sweet and cuddly long-term resident with unpredictable aggression issues. On average, they have 15-20 cats coming into the rescue every month, and 12-15 are adopted each month. Challenging cats with behavioral issues end up staying for years, and the team wishes to focus on these cats.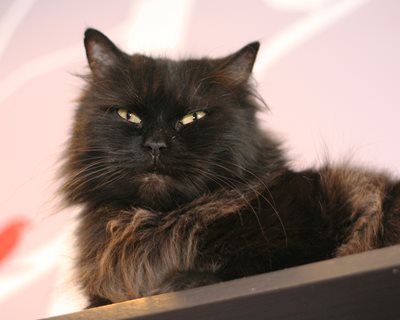 "We're also looking to have other volunteers involved in the process. We hope it will help our adopters as well, so they can continue or use what we have learned to help the cat transition in their new home," says Jennifer Fritz, Vice President and Team Leader, who has 12 years of experience in the shelter system.

Most of the team members will be new to clicker training, although a few have participated in the introductory Cat Pawsitive program last summer. The overall outcome that the team hopes to gain from Cat Pawsitive Pro is to see happier, more stable cats ruling contently in their forever homes.


YOU can improve the lives of cats at risk. Donate today to The Jackson Galaxy Project's Cat Pawsitive Program and transform the places and people that support at-risk pets!