Cats are Coming out of Their Shells at Animal Friends Humane Society
By Dawn White of Lola the Rescued Cat
As we do our mid-point check-in for Cat Pawsitive Pro (CPP), Animal Friends Humane Society (AFHS) in Hamilton, OH is reporting success. Rachel Hughes, kennel tech, says that her "favorite part of CPP is [that] it gives us the ability to give these special cats the extra opportunity to really come out of their shells and be happier in the shelter environment, and [then] in their forever home." AFHS has had a few adoptions so far, and the adopters are excited to learn and continue training with the cats.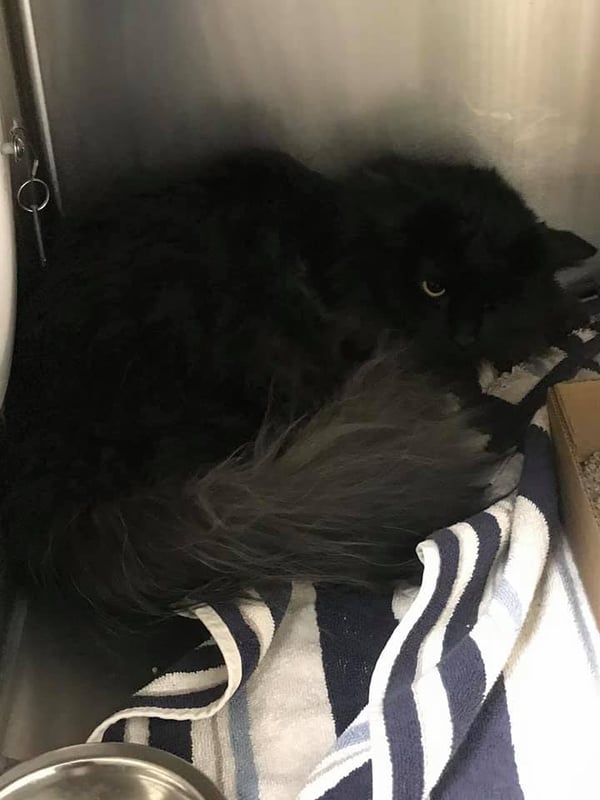 The team's biggest surprise has been with Raven, a two-year-old domestic long hair who only has one eye. Upon her admission to the shelter on February 2, 2021 after her owner passed away, Raven was not very responsive to staff. She was always hiding in the back of her cage and would hiss and run away from everyone – that is – until her training started.
Raven, who loves her dry treats, responded well to training and started doing requested behaviors right away. Although she is still a little "hissy" with people, she comes right to the front of the cage when she sees the training equipment, and she now meows and will allow people to pet her.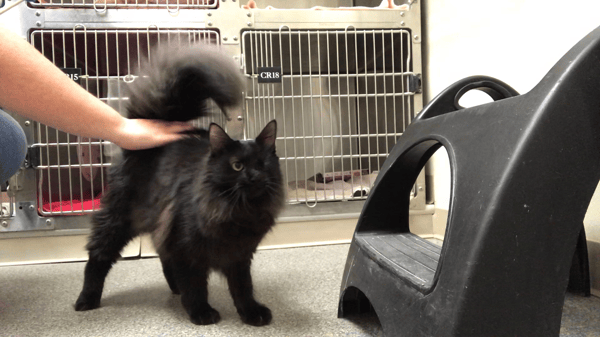 "I have loved working with Raven. I cried the first time she let me touch her and now I am so proud of every milestone she hits," says Kim Sunberg, cat care coordinator. "She has really opened up and I honestly enjoy being able to make her life a little less stressful while in our care." Everyone was so surprised at how quickly she came around by participating in the program.
Sunberg reports that staff enrolled in CPP are super excited and love to watch the cats learn and become more confident. Myra Sprinkles, kennel tech, feels that it has been amazing to watch the cats' minds during training. "You can see their body language completely change as we work with them. You can see the wheels turning in their heads from session to session as they start to figure out what we want them to do." She says once they get it, they are so eager to please in order to get a treat or pet. "It's so rewarding," she continues, "and I love knowing that we are giving them something to make their stay at the shelter a little heathier and happier."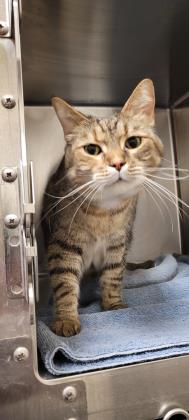 Trainer-Mentor Tabitha Kucera is impressed with their progress thus far. "AFHS has been doing an amazing job learning and applying the techniques in this program, and it has been such a pleasure working with them," says Kucera. "The cats in their care are benefiting tremendously with the new techniques they have been applying."
Kucera says that Raven has been a standout cat to her as well. When Raven arrived at the shelter, she was "fearful and exhibiting aggressive behaviors due to how scared she was." But Kucera reports that in just a few weeks, Raven started to play and exhibit normal cat behaviors because her overall stress had decreased tremendously.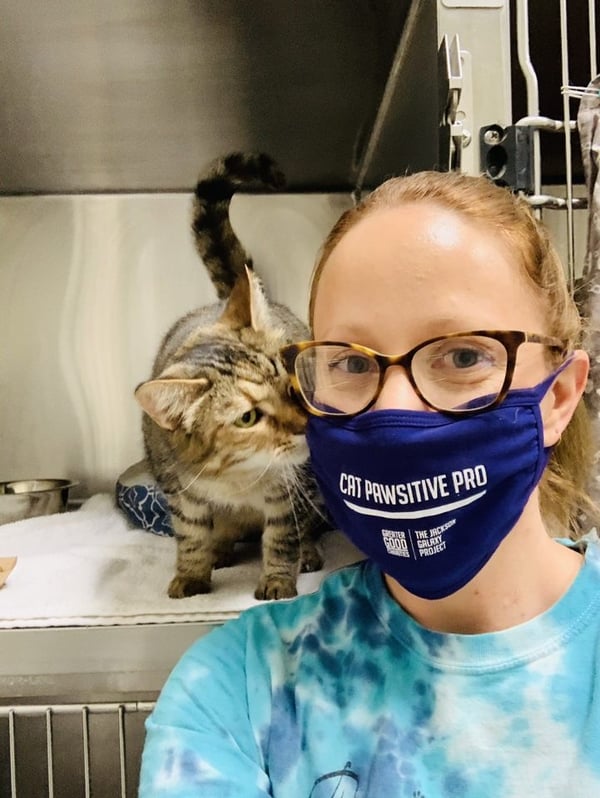 Kucera has been surprised at how quickly the staff has been able to apply the techniques taught with CPP, not only to the cats in the program, but to all the animals in their care. She says the staff is "identifying triggers and doing what they can to minimize them for the cats."
Animal Friends Humane Society is very grateful that they can participate in CPP. "This program has been the biggest blessing our shelter could receive," says Caitlyn Wilson, customer care tech. "Not only have we gained the tools to help our kitties, but it has also helped our staff grow as well. I have learned more about cats in the past 5 weeks that I ever thought possible. I want to thank CPP and Jackson Galaxy for making our dreams come true. I am so excited to see more progress to come."
Pam Brunner, volunteer, loves that "CPP gives you the ability to help your cat become an active member of your family."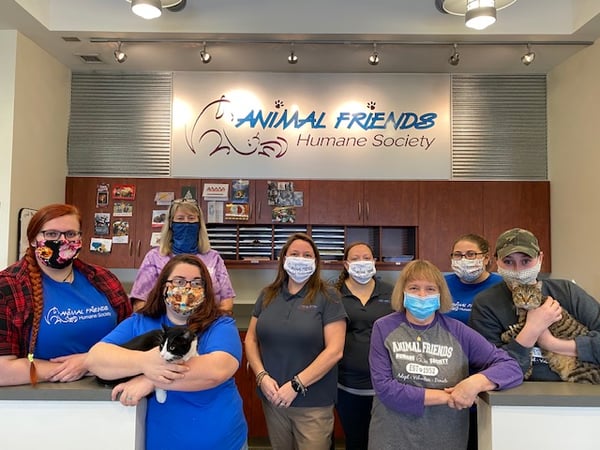 Executive Director Tara Bowser expected the cats to greatly benefit from the training – because that is what the program is designed to do. But she says she never "anticipated the positive change that it would quickly have on our staff. The CPP program has been a tremendous team builder. It has been such a joy to watch all of them work so closely together and brainstorm new ideas. Compassion fatigue and burnout are so common in our industry, but The Jackson Galaxy CPP Program has definitely lifted many spirits here at Animal Friends."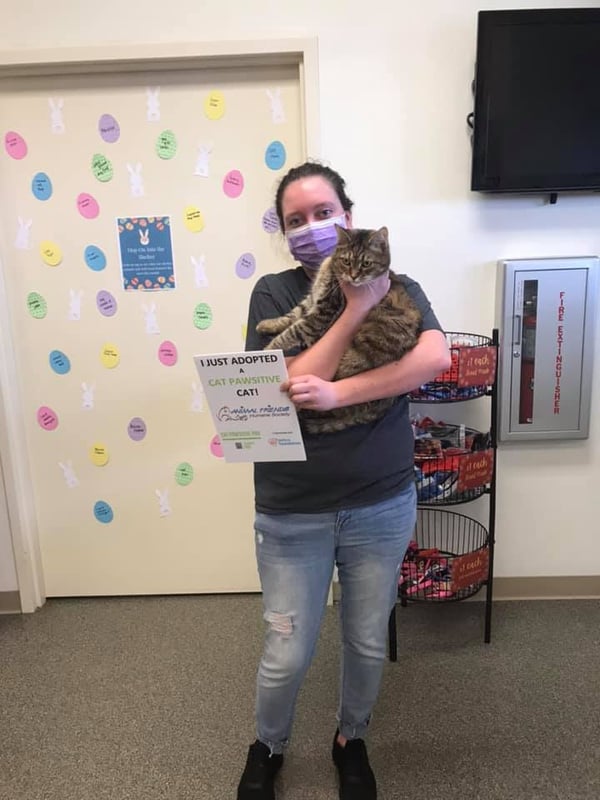 YOU can improve the lives of cats at risk. Donate today to The Jackson Galaxy Project's Cat Pawsitive and transform the places and people that support at-risk pets!