Chris Pratt and Greater Good Charities CEO Discuss Food Insecurity and COVID-19
This year, 1 in 4 kids in America this year may not know where their next meal is coming from. 40% of people seeking services from food banks are doing so for the first time. These are our neighbors, and they need us more than ever.
The Feed Thy Neighbor campaign with Greater Good Charities, The Hunger Site, 12 Tomatoes, and Chris Pratt is designed to do just that—to help people in need during this unprecedented crisis brought on by COVID-19. 100% of every donation goes to help fund meals through Feeding America and as cash grants directly to front-line hunger relief.
Watch Chris Pratt and Greater Good Charities CEO Liz Baker discuss how the grant process works, transparency and accountability, and the difference between food banks and food pantries:
The Impact of Your Gift
Second Harvest Food Bank of Greater New Orleans and Acadiana is just one of the groups benefiting from your generosity this year. Watch their director of communications and marketing Jay Vise explain just how your donation helps, and why it is so needed.
We raised $625,000 for #FeedThyNeighbor, which will fund over 3 million meals at Feeding America, and provide over $300,000 in cash grants to hundreds of local food banks and pantries during these unprecedented times. We are overwhelmed by the amount of support and kindness you showed to help feed our neighbors facing food insecurity.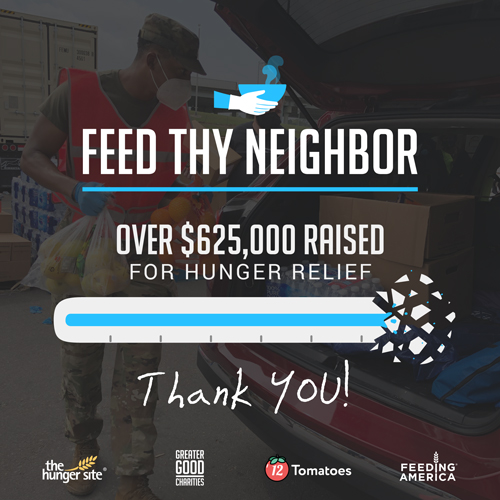 To our friends at The Hunger Site, 12 Tomatoes, and Chris Pratt, thank you all for helping make Feed Thy Neighbor such an incredible success, and for standing beside us to fight the food crisis that has impacted so many lives.