Final Thoughts from The Cat Pawsitive Pro Shelters: Town Cats
By Nikita Lero

Morgan Hill, California's own Town Cats had a busy semester with The Jackson Galaxy Foundation's Cat Pawsitive Pro (CPP) program, and their hard work shows. With two CPP cats adopted – Tank and Rocky – the shelter doesn't show any signs of slowing down their progress now that the program has officially completed. Operational Manager Samantha Sullivan reflects on their specific goal with CPP. "The largest objective we had for this program was to work closely with our very long-term cats that have struggled in the past to socialize or feel comfortable around people," says Samantha.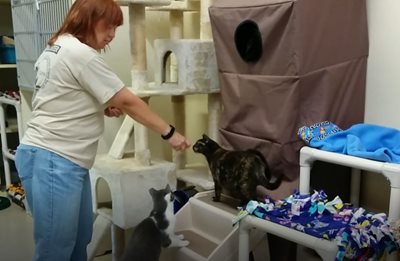 Town Cats initially didn't have the right tools to help these long-term cats, some who have been at the shelter for over 5-7 years, but CPP filled this void. "The greatest benefits [of CPP] are the tools we have gained for working with shy or challenging cats," says Samantha. "We have also trained several volunteers that absolutely love this program and are looking forward to continuing working with our current cats and new ones in the future."
Team Leads Melanie Silva, Danielle Carr, and Kym Sugano had their hands full between training cats and leading their team of volunteers and staff in the CPP program. "This program really pushed our staff and volunteers to come together closer than ever to make sure everyone was on the same page in training these cats," says Melanie. "By working together towards a shared goal, it's created a real sense of purpose and community within the shelter."
The clicker training learned in CPP not only helped the cats in the shelter but is also being implemented in the homes of volunteers and staff alike. Melanie, Danielle, and team member Jim Preston have all been implementing their training at home with their own kitties. Jim says he started working on 'sits' and 'high fives' with his cat, while Danielle is using the training to reinforce positive behavior. "My FIV senior Valentine had a morning ritual of charging me to bite my arm if I wasn't laying a way she could sit on my chest," says Danielle. "I would click and treat when she would engage appropriately on the couch and now she almost never displays that behavior anymore."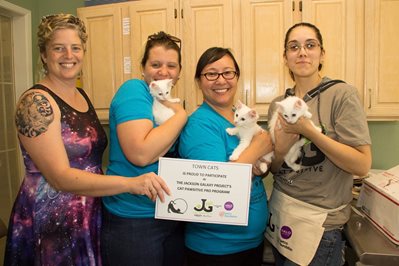 Melanie has been working with her two cats at home with clicker training and plans to continue after the program. "My five-month-old is a lot more receptive than my 11-year-old, but I won't give up on either of them!" says Melanie. "It's really come in handy teaching my younger one to approach on command in case we lose sight of her. So far, we have trained her to give kisses and she is learning fetch at the moment. My older boy is doing pretty well with 'sit' right now too."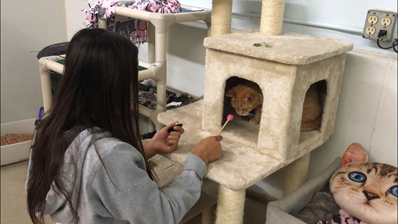 One of the largest personal gains everyone took away from CPP was growth in knowing cats are trainable and building relationships in a new way with these, at times, hard to love cats. Danielle explains the lesson she learned with the program. "I was skeptical at the beginning, but I have gained insight that clicker training really does work," says Danielle. "I would like to say to anyone who has a cat that seems like its unworkable to please give it a chance and try the program and you will see change if you stick with it!"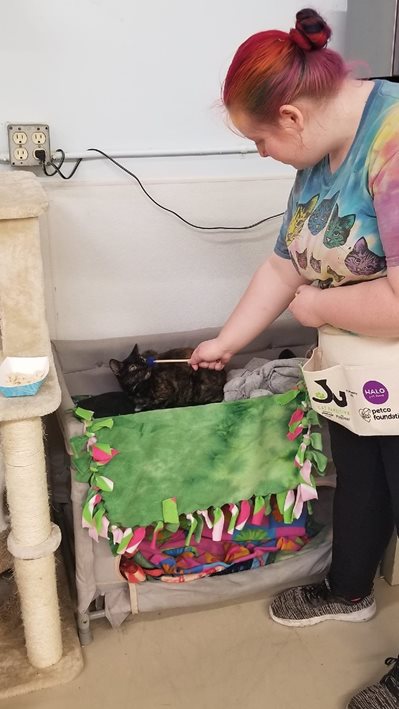 The team at Town Cats weren't the only ones learning new tricks with CPP. The cats enrolled in the program became the stars of the show at the shelter. Rocky, Tank, Rose, and Nadius became skilled cats in clicker training, and they show off all their tricks in their new homes and the shelter daily.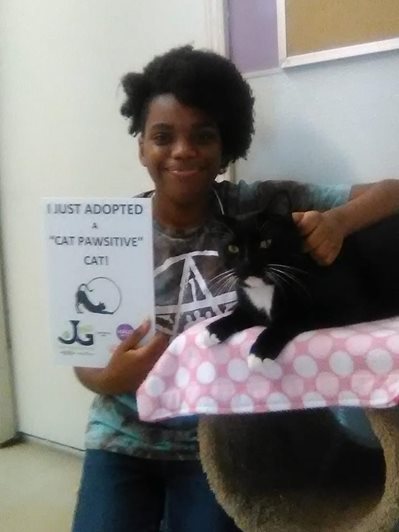 Rocky was one of the cats adopted through CPP, a huge cat at 18+ pounds, who went home with one of the minor-aged volunteers. "The volunteer's mother was terrified of cats, but through teaching Rocky 'sit,' 'high-five,' and 'sit-pretty,' we were able to make him appear a lot friendlier and less intimidating," says Melanie. "In the end, after seeing his tricks, our volunteer's mother agreed to the adoption. Prior to the program, the volunteer had been trying to convince her for weeks, but by learning those tricks, I feel like Rocky was finally accepted by her mother."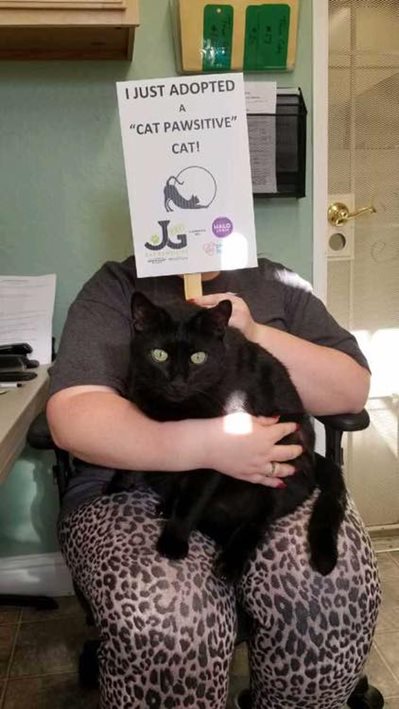 The other adopted cat, Tank, is a sweet cat who was surrendered to the shelter in August. He is a big cat with an even bigger personality who tended to get overstimulated with too much petting. He entered himself into the CPP program by following around the staff during training sessions. "He learned to sit with a verbal cue in less than 5 minutes! He was working on an obstacle course before he got adopted in late September," says Kym. "Even though he was only with us for a very short time, we are so happy he found his fur-ever home." His adopters really were impressed and plan on keeping the training alive at home as well in hopes to help him shed a few extra pounds. "Instead of sits, he's going to walk up and down the stairs in his own personalized CPP weight loss training," says Kym.

Jim worked with a lot of the cats in the program, but one stuck out with the largest amount of change, Rose. "She's practically a different cat because of CPP," says Jim. "When I first met her, she would hiss at the sight of me, if I approached her, she would swat at me and then run away. Over the course of the program she has become engaged – she became calmer, lets me approach her and even does 'high-fives' with me." But this isn't the most impressive part of Rose's transformation describes Jim. "Now when she hears the clicker when I'm working with another cat, she comes over and wants to be included."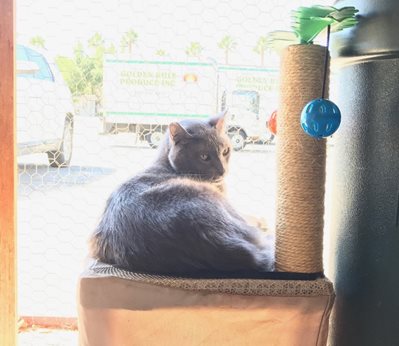 The cat with the most praise from the Town Cats team was Nadius, an older cat who lived outside as a feral for the first 15 years of his life. "Seeing him high-five like a champion really shows exactly why this program works," says Danielle. Nadius is now confident and more personal than ever before at the shelter. "Volunteers were seeing him lounging on the table after a staff meeting and they were downright confused! They couldn't believe it!" says Danielle.

Trainer-Mentor Carrie Seay has been working with a few shelters in CPP, Town Cats being one of them. "Carrie always made sure to answer any questions and give us suggestions on how to overcome some of the obstacles in training that arose," says Melanie. Between the journaling and documentation, these shelters had all the tools in their hands for success. Carrie was another "tool" for the shelters in CPP – answering questions and helping with clicker training throughout the program. "It's always really fun to see the outgoing cats doing behavior like high-fives and obstacle courses, but it is really rewarding to see the cats that would once not even make eye contact come to the front of their enclosures and solicit attention," says Carrie. "It can really build the confidence in all the cats and let their personalities shine through."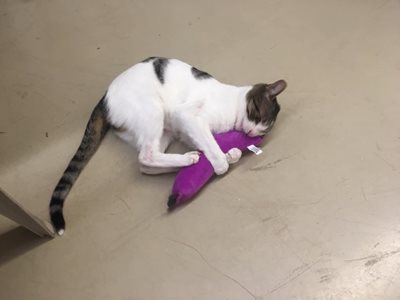 With all the success of CPP in the shelter, team Town Cats doesn't plan on slowing down anytime soon. Samantha explains, "We plan to integrate CPP into our foster program. Many of our fosters work with socialization and we hope to train our fosters to be able to work with the cats/kittens in their care with more confidence."

Kym also explained that a high school volunteer program has started since completing CPP. "After the program ended, we had a lot of high schoolers interested in volunteering, and CPP seemed like the best way to get them involved," says Kym. "Both cats and volunteers have been making tremendous progress, and we look forward to including more youth in the program!" Town Cats has the tools and drive to keep up great work with cats and volunteers alike around Morgan Hill, and we wish them the best of luck!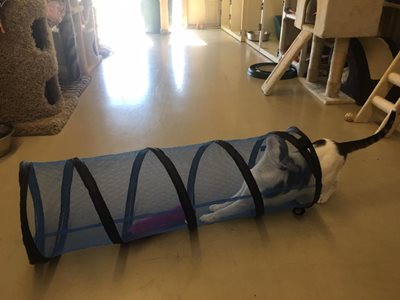 YOU can improve the lives of cats at risk. Donate today to The Jackson Galaxy Project's Cat Pawsitive Program and transform the places and people that support at-risk pets!