Ginger's Journey from Shelter to Service
When Hurricane Harvey left hundreds of animals homeless and hungry, we asked for your help. Donors like you answered our call and made it possible for Greater Good Charities to provide grants to shelters and organizations across the country.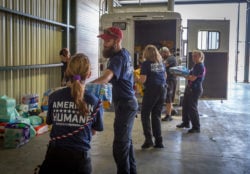 American Humane Association loads a truck with donations of pet food.
American Humane Association used the grant from Greater Good Charities to send rescue trucks, boats, and a relief team down to Texas. Once there, the team provided meals, critical supplies, and veterinary care to adoptable animals that had been evacuated to make room in local Houston shelters for lost pets.
Ginger was one of these evacuated dogs. Before Hurricane Harvey, she was in the care of a rescue organization in the Houston area. When the storm came, her shelter flooded, and Ginger and the other dogs were transported to another organization for adoption.
A group of these dogs then made their way to a temporary mega-shelter set up at the Montgomery County Fairgrounds, where American Humane Association was helping to oversee operations and care for displaced animals. This is where Lesa Staubus met Ginger.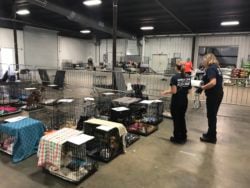 A temporary mega-shelter set up at the Montgomery County Fairgrounds.
Shelter workers always try to make their animals feel as comfortable and safe as possible, but the situation can be stressful. A long car ride to a new shelter with even more animals can only make it that much more upsetting.
While other dogs were barking in their crates, Ginger stood out for her calm demeanor in the hectic environment. Many of the displaced animals had difficulty trusting people right away, but not Ginger. She wanted as much human companionship as she could get.
Ginger in her crate at the temporary shelter.
Ginger's even temperament caught Lesa's attention and made her wonder if she might be a good candidate for American Humane's Shelter to Service program, which trains shelter dogs to become service animals for veterans living with Post-Traumatic Stress and Traumatic Head Injuries.
The Shelter to Service program has strict requirements for dogs, but Lesa has already begun Ginger's testing—and she's passing with flying colors!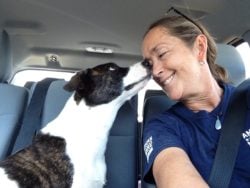 Ginger and Lesa Staubus
Ginger walks naturally on a leash, can ride in a car without getting sick, and approaches new situations with a brave and happy disposition. She is in excellent health and is an ideal age and size for the program. She has more testing to go, but if all else goes well, Ginger should be in service dog training school within the next few weeks!
Ginger is already on her way to an exciting new adventure, but more adoptable animals like her are still waiting to find their forever homes.