Help Save Thousands of Shelter and Rescue Animals!
Many folks do not realize that the thousands of shelter and rescue groups that work tirelessly to save millions of homeless animals are achingly underfunded. Due to this lack of funding, more times than not, their facilities are in great need of repair. If they could afford these repairs, it would be an ideal situation for the animals in their care.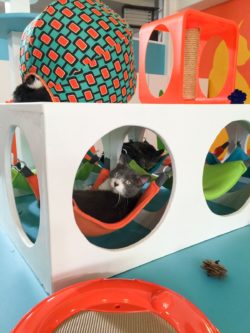 Animals need exercise and play to be their best selves when they meet potential adopters. Often rescues and shelters simple do not have the extra space to provide anything but a cage or small holding room for these animals. Stressed animals get sick more often, and are less adoptable, while adoption rates spike by as much as 25% when animals have dedicated outside play areas.
Greater Good Charities' Rescue Rebuild program has conducted over 100 animal shelter rebuilds. The program recruits volunteers from all over the country to help shelters in need. They travel to selected shelters to complete repairs and renovations to improve the life of shelter animals and increase adoption rates. But all this travel has taken a toll on Rescue Rebuild's truck, Duke. No build would be possible without Duke. One could say he is the most valuable player of the Rescue Rebuild team, as he gets the tools and supplies needed to complete each build from state to state. Duke's trailer is a rolling hardware store, with thousands of tools and supplies. It pains us to say that Duke is dying.
Duke has been with Rescue Rebuild for over 100 shelter renovations in 48 states, and he's on his last leg. If Duke dies, the work stops. Rescue Rebuild needs you to make sure this does not happen. A new truck, Duke 2.0, is needed to keep this important work moving. We estimate Duke 2.0 will carry Rescue Rebuild 300,000 more miles to renovate shelters for another 10 years and improve the lives of hundreds of thousands of shelter animals.
Any donation makes a difference, and 100% of all donations go directly toward ensuring Rescue Rebuild will continue.