How CPP Turns Hisses to Slow Blinks at Orange County Animal Services
By Yasaar Nakchbendi of Chirpy Cats
When a shy cat blossoms into a more confident version of herself, that's always an occasion to celebrate. Kamala, a beautiful 1.5-year-old black female cat, arrived at Orange County Animal Services (OCAS) in North Carolina as a stray via trapping. At first, she was nervous of people, and hissing and swatting were her only means of communication. But thanks to Cat Pawsitive Pro (CPP), things quickly turned around for the better.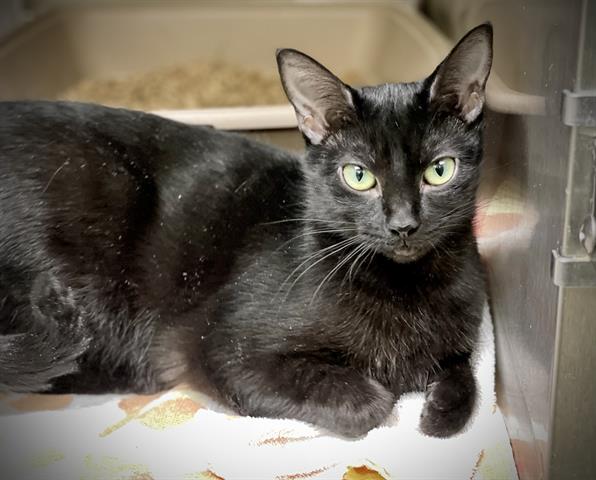 Staff initially thought Kamala was a feral cat and placed her in the feral holding area. Within a week of arrival, she gave birth to kittens and was quickly moved to their "meowternity ward" – and it became clear she was not feral. She had more interactions with staff and slowly got accustomed to their presence. But as CPP clicker training progressed, Kamala showed her gentle side, became more relaxed and even made "soft eyes."
Staff was pleasantly surprised to learn that Kamala actually really liked to be petted. They had thought she would not be an affectionate cat, but she soon proved them wrong by asking for gentle pets. In fact, her progress went so well that she was moved to the adoption floor, where she was showered with even more love and attention by volunteers and more staff. And soon after, this once frightened and nervous cat that scurried and hid, was adopted into her forever home!
JGP Trainer-Mentor Tabitha Kucera says, "Kamala came to the shelter fearful of the environment but also people, and has come so far with the help of the staff using the techniques they learned with Cat Pawsitive Pro, including assessing body language, clicker training, and considerate approach. With Cat Pawsitive and the team's wonderful work, Kamala's stress decreased, she became more confident, became comfortable with people approaching and interacting with her, and got adopted into a loving home!"
"Kamala's turnaround was definitely our biggest surprise!" says Tiani Schifano, CPP Team Leader and Animal Care Supervisor at OCAS. She continues, "Working with Kamala and seeing her go from what many people might consider feral to someone's pet was probably one of the most rewarding experiences I've had in my 5 years of animal sheltering."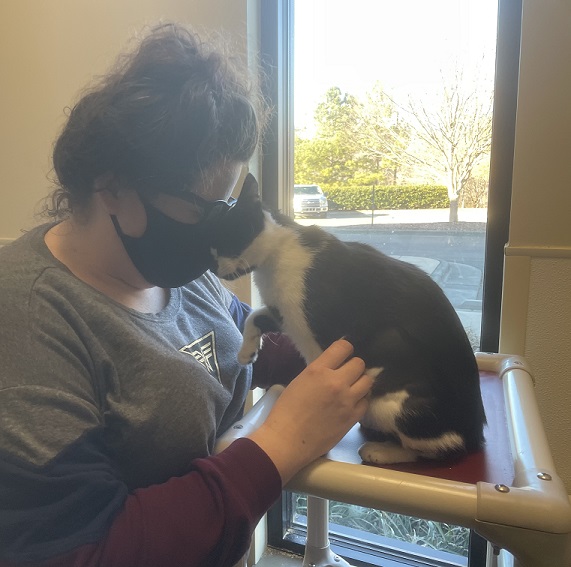 CPP Team Leader Tiani Schifano
Not all cats enrolled in the CPP program are shy or shutdown. Take 2-year-old Enyo, a black and white female cat, outgoing, sassy and craving attention. This "rock star" kitty loved being petted at the outset but was easily overstimulated, so staff and trainers had to get the balance just right. They started off her CPP session by first warming her up with lots of attention and then began the clicker training. Once they became more familiar with her quirky ways, they knew exactly how to channel her energy in positive ways through clicker training with Cat Pawsitive Pro.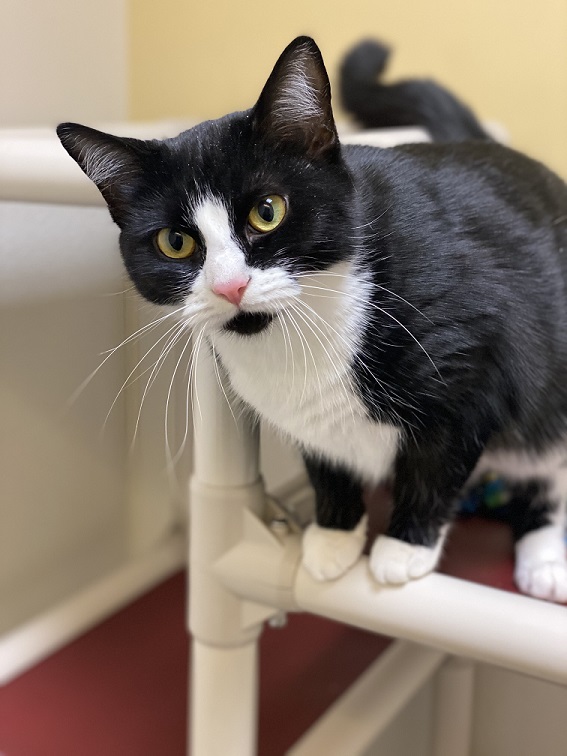 In the shelter setting, overstimulation can present an issue. But learning a cat's peculiarities can help provide the right enrichment and bring out a cat's full potential to help them shine. Tiani says it was very rewarding to see how Enyo has made progress in the program. From vocalizing excessively and swatting for attention, Enyo now solicits attention calmly and exhibits a more relaxed version of herself.
When speaking about Enyo, Trainer-Mentor Tabitha says, "Clicker training for her has been so helpful to provide her with enrichment, give her appropriate outlets for her energy, and strengthen her bond with humans."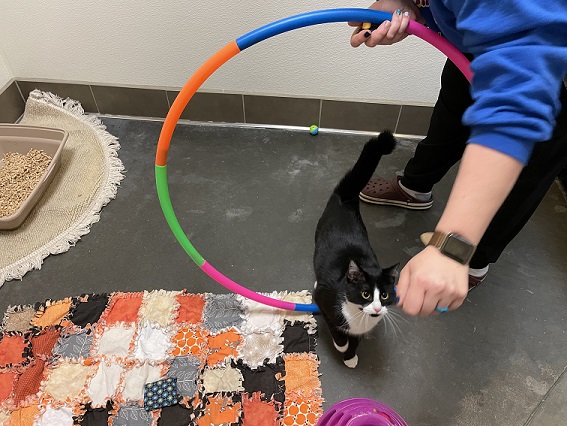 An interesting fact that Enyo has taught staff is that even if a cat is begging for pets and attention, it's highly beneficial for them to expel their energy in different ways such as training exercises.
Staff was impressed at how every cat personality, no matter how different, from shy to outgoing, can channel positive behaviors through clicker training.
The progress seen in CPP cats continues to inspire staff and volunteers. Many have remarked on the personality differences they have seen in some of the participating cats – and eight of these cats have been adopted, including Enyo! After several months at OCAS, this bold and energetic kitty crept into the heart of a young man who was charmed by her quirky personality. Enyo's adoption was a huge win for staff, and of course for Enyo too!
Jasmine Johnson, CPP Team Leader and Veterinary Health Care Manager, says, "Adopters of participating CPP cats have been excited to learn about the program and continue training in their homes."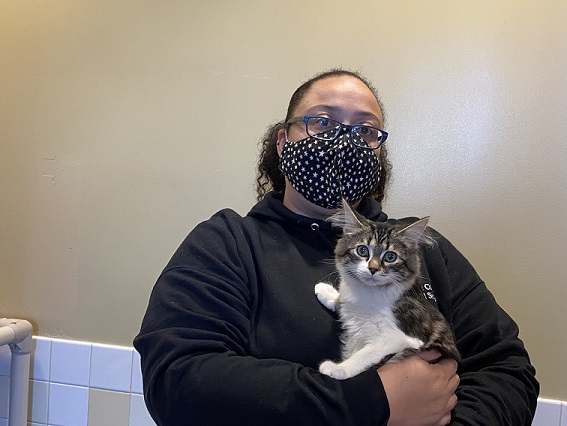 The staff is very happy to have been chosen to participate in CPP, and they are pleased to have acquired new skills dealing with their shyest cats.
Trainer-Mentor Tabitha adds, "OCAS has been doing an amazing job learning and applying the techniques in this program and it has been such a pleasure working with them! The cats in their care are benefiting tremendously with the new techniques they have been applying (clicker training, identifying triggers, creating low stress environments, etc)."
She says, "It's always so wonderful seeing the positive changes not only in the animals at the shelter but also in the volunteers and staff."
YOU can improve the lives of cats at risk. Donate today to The Jackson Galaxy Project's Cat Pawsitive Program and transform the places and people that support at-risk pets!