Newfound Confidence in Cats Brings Hope to Shelter Staff Thanks to Cat Pawsitive Pro
By Yasaar Nakchbendi of ChirpyCats.com

When shy Ursula, the tree-dwelling Persian cat, emerged from hiding, she was able to show her true personality to staff and volunteers at New Beginnings Animal Rescue (NBAR). They were overjoyed seeing Ursula interact with her trainers in a positive way with the help of Cat Pawsitive Pro clicker training.

Ursula has been at NBAR for a little over a year and was rescued from a hoarding situation. But after being in the Cat PawsitivePro (CPP) program, this former wallflower cat has learned that humans are not that bad after all.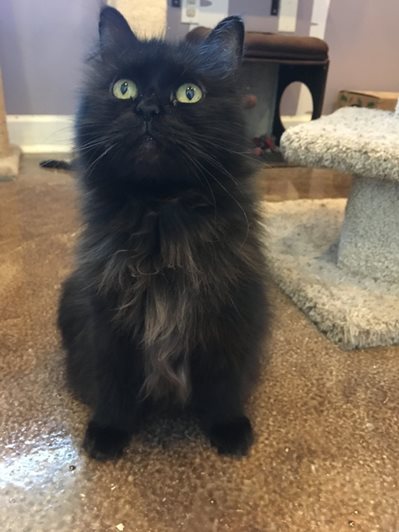 "It was great to see some of our shier cats become more confident. Ursula spent the first four to five months with us on a shelf high up in our free roam room. She now meows at everyone and will give anyone a high-five (as long as you have a Liv-a-Little treat). It's been such an amazing 180-degree change from the cat we rescued from a hoarder house a year ago," says Vice President and Team Leader Jennifer Fritz.

Staff agrees that by far Ursula was the most impacted. Although she hasn't been adopted yet, she's grown immensely more comfortable with people and they're confident that it's just a matter of time before a potential adopter sees her true worth.

For some cats it didn't even matter that they did not master any of the skills, but the program itself allowed them to shine in other ways socially. The most important leap for Pumpkin, who was also at the shelter for a year, was becoming more social and abandoning his hidey-hole.

"Pumpkin was a delightful surprise. He wasn't in the program too long but was at NBAR for at least one year. The fact that he came out of his hidey-hole and allowed anyone to pet him was an enormous change for such a short period of time in training. Pumpkin was in the program for 35 days and although he didn't master any behaviors, he became much more social around humans," says shelter volunteer Sylvia Stefanovich.

"For the cats, just becoming more socialized means everything!" she says.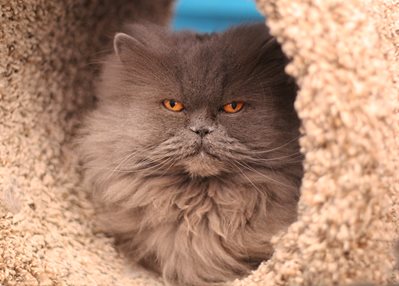 "CPP taught me many things as well as how to act around the cats too. Seeing their learning ability in such a short amount of time blew me away. It means the world to me that we can take these cats that seem unacceptable and get them a home," says Sylvia.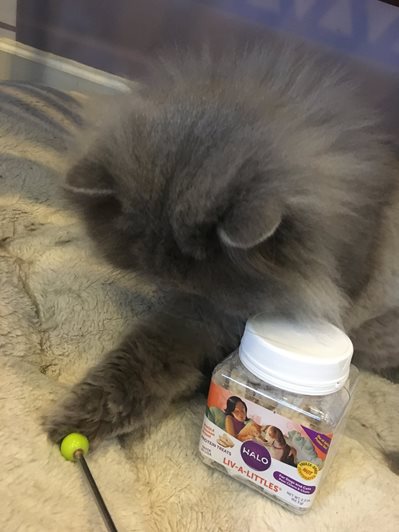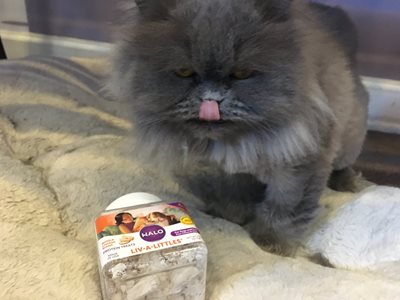 Shelter volunteer Brett Norman sees many benefits of the CPP program and how it has transformed the way they work with cats.

"Cats that have been historically fearful of volunteers and potential adopters have started to understand that people are okay. It helps create hope where there didn't seem to be any before," he says.

To witness the amazing transformation in the cats over the course of the CPP program was nothing short of magnificent for the staff and the shelter in general. Staff found it pleasantly surprising how quickly the cats have progressed.

"It was also wonderful to see cats who weren't in the program wanting to participate too!" says Jennifer.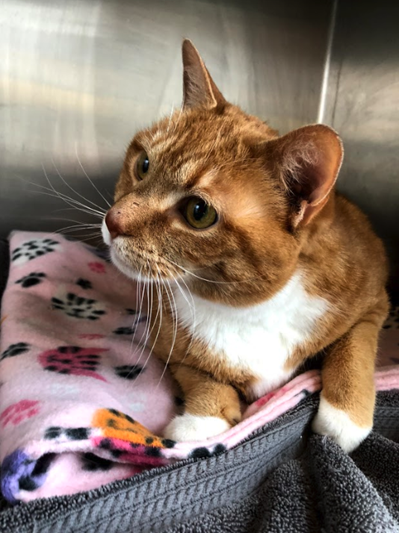 She relates her favorite CPP story about Phinneas, her first trainee.

"It was so cool to watch her go from sitting with her back to us and head in the corner, to just melting in your hand and demanding attention. Phinneas was with us for 27 days and had mastered capture (headbutt) and targeting (come when called)," says Jennifer.

Soon after that, Phinneas was adopted!

One of the greatest benefits for the shelter, thanks to Cat Pawsitive Pro, was the interaction between volunteers and the cats. Jennifer was also pleased to notice how shelter volunteers would start advocating for the cats and introducing them as CPP cats.

"On the one hand, our shy cats benefited from the extra attention and became much more social, and on the other hand, our volunteers advocated much more for those cats. Instead of just saying 'oh here's Eleanor,' it became 'here's Eleanor, she's in our CPP program'," says Jennifer.

The volunteers feel they have more tools and knowledge at their disposal to work with difficult cats and they, in turn, pass the skills on to new volunteers.

"I've learned that with time and patience even the toughest of cases can be overcome," says Brett.

Trainer-Mentor Molly DeVoss says, "I'm grateful to the NBAR team for their dedication to the Cat Pawsitive Pro program and their commitment to show up every week and do the work in between our meetings. They all have full time jobs and still find time to invest so much into this small, but mighty shelter and in transforming the lives of these very special cats."

Shelter President and Team Leader Lisa Hill loved having her "bag of tricks" when working with the long-term cats and is amazed at how far they've progressed.

"I love teaching our volunteers who were not in the program what we learned and watching them engage with the cats. When their faces lit up because the cat performed a task, that was priceless. What we learned in this program will benefit our shelter for years to come," says Lisa.


YOU can improve the lives of cats at risk. Donate today to The Jackson Galaxy Project's Cat Pawsitive Program and transform the places and people that support at-risk pets!