Peering into Riggs's crate before he was loaded onto our recent epic Paws Across the Pacific mission, it was hard to believe this was the same dog who arrived at the shelter only a few weeks previously.
His eyes bright and his coat shiny, Riggs oozed excitement for his big trip, in which he would join nearly 600 other dogs and cats aboard a Hercules C-130 on their way to new homes in the Pacific Northwest. This flight, a partnership between Greater Good Charities, The John R. Peterson Foundation, Wings of Rescue, and many others, would find Riggs his forever home. But it wouldn't have been possible without fostering.
Riggs's story serves as a reminder that foster homes don't merely free up critical space in overcrowded shelters, but they also serve as places for animals to decompress and heal from physical and/or emotional trauma from their past.
A four-year-old Catahoula mix, Riggs was brought to Maui Humane by the shelter's Humane Enforcement Officer, Denise Riggs — after whom he was named. Although no one knows what type of situation he came from, or anything about his past, it was clear he was in dire need of some TLC.
"Riggs's transformation is amazing," explains Jenny Miller, Director of Development & Marketing at the Maui Humane Society. "When he came to the shelter, he was in very poor shape — emaciated, and with much of his hair missing,". He was also covered in scabs and sores.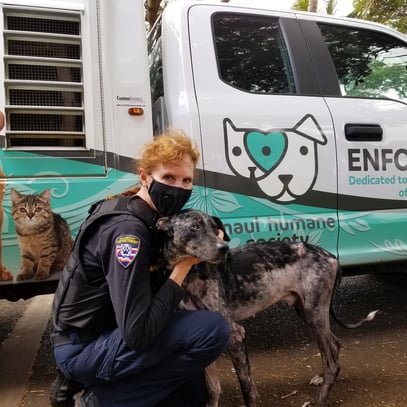 Thankfully, staff immediately knew who to turn to. A trusted volunteer named Bonnie, who along with her family has been fostering dogs of all ages for Maui Humane for three years. Bonnie says that the shelter calls her "when they have fur babies that need a little special attention, like Riggs."
Nikki Russell, the shelter's Director of Community Outreach, agrees: "Bonnie is a die-hard foster! Litters of puppies, medical cases, surgery recovery, WOA [Wings of Aloha]… she and her family open their doors to all kinds of foster."
Once in Bonnie's loving care, Riggs's personality and preferences soon started to emerge. He got along with her cat – who ignored him – and her two other male dogs. He's housebroken, and though he doesn't know commands, he is treat-motivated (the latter can often help with the former!)
"Rigatoni [Bonnie's affection nickname for Riggs] can be a little skittish if he gets surprised, but he is very lovable and can be a cuddle bug. He's a BIG BED HOG! He can also be a bit mouthy, so that's something to work on. He is playful and a bit of a devil!
"Riggs just needs a family who will love him and be patient with him."
Even after all this time, the foster pro readily admits feeling weepy when dogs eventually leave her care, and Riggs was no exception.
As Russell puts it, "Bonnie dotes on these animals as if they are her own and kisses each one goodbye, wishing them well on the next step on their journey with a tear in her eye and 'Who's next?' on her lips."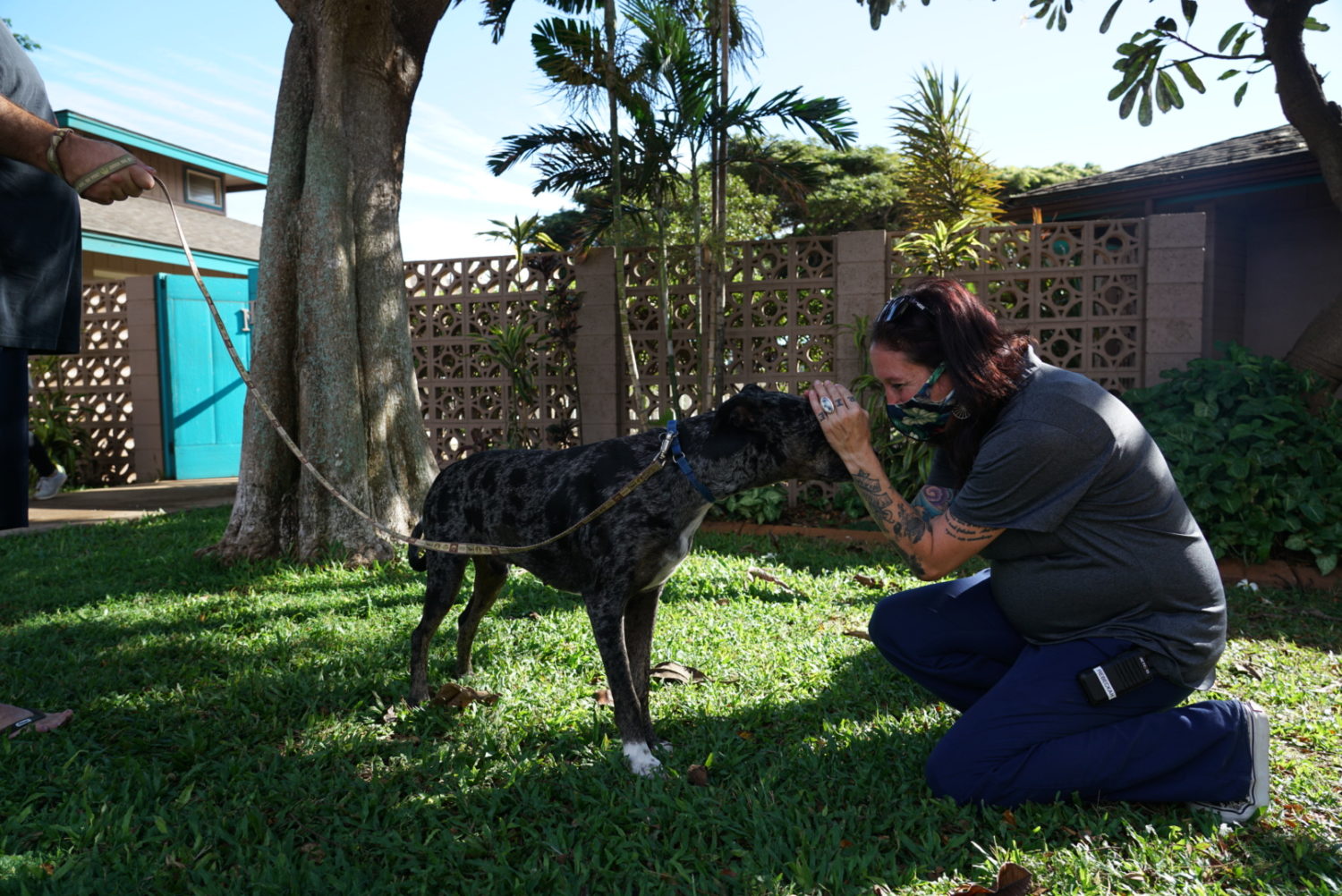 Bonnie's advice for potential foster parents who are hesitant to take the plunge? "Go for it. If you have the love desire and ability to do it. It is the most rewarding thing to take an animal that was abused or unloved and show them that we are all not the same."
For anyone interested in adopting Riggs from the Humane Society of Skagit Valley in Burlington, WA, here are the shelter notes from Maui Humane:
"He is beautiful to watch run. He is graceful and fast. Inside the room, he has good manners. He loves to sit by your side. He hasn't had much training but responds to praise, treats, and a kind touch. He walks great on a leash. He gets along with kids (over 7 years old due to activity level), cats, and other dogs. His ideal home must have a fenced yard and should be an active home. Please read up on the breed."
Update, November 30th: We're happy to report that Riggs has been adopted!