Shelter Pets Find Temporary Homes Amidst Pandemic
Since Greater Good Charities created the #StayHomeAndFoster initiative, our supporters have stepped up for shelter pets in ways we never imagined!
In the midst of kitten and puppy season, already-strained animal shelters are facing a difficult reality set forth by the COVID-19 pandemic, including staffing shortages, decreased pet adoptions, intake increase, and government-imposed shutdowns.
In response, we created #StayHomeAndFoster, a campaign dedicated to getting pets out of shelters and into homes. Greater Good Charities is partnering with shelters all over the country to connect potential foster parents with their foster pets.
To date, over 30,000 potential foster parents have registered to give these pets a temporary home.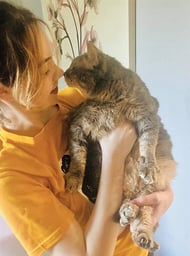 These are Ashe and his foster mom, Nicole. At 12 years old, Ashe's owners abandoned him because they had "too many pets." Nicole stepped up and the two are now taking on self-isolation with cuddles to spare!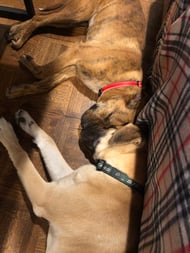 These are Rosie and Kenny! Rosie is a foster from the Humane Society of North Texas and she is loving having her foster brother, Kenny around for naps.
Even celebrities are getting in on the fun, including Crazy Rich Asians star, Henry Golding, who is fostering Stella. Even the likes of Olivia Munn and John Mayer have given the program a shout-out!
Happily, many of these pets have become what we like to call "foster fails" or have found their forever homes. But the work is not over just yet.
To learn more about how you can join or support the movement visit stayhomeandfoster.org.
---
#StayHomeAndFoster is a national campaign to support pet foster created by GreaterGood.org in partnership with NBCUniversal Owned Television Stations' Clear The Shelters™ campaign and sponsored by Boehringer Ingelheim Animal Health USA Inc. Their support makes this program possible.