The SPCA of the Triad Experiences Lasting Benefits Thanks to Cat Pawsitive Pro
By Emily Hall of KittyCatChronicles.com

The Cat Pawsitive Pro program at the SPCA of the Triad may be coming to a close, but the effects the program has had on the shelter, its residents, staff, and volunteers will be long-lasting.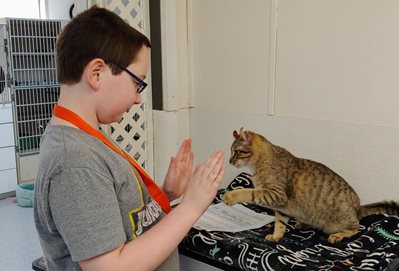 Lisa Stemcosky, the JGP Trainer-Mentor for the shelter, says, "We saw shy cats build confidence. These cats went from hiding in the back of their enclosure to doing tricks and playing on the floor. We saw a cat who was not interested in interacting with humans, run toward the trainers when they entered the room. The trainers at SPCA of the Triad now have skills that will improve the quality of life for all the cats that entered their shelter for years to come."

Trainer Dianne Lamb adds that "the cats we selected to enter the Cat Pawsitive Pro training program are not the same scared, untouchable cats they once were. The cats are better, but I also have a much deeper understanding of them and how to help them with confidence building in the sometimes-scary world of shelter life."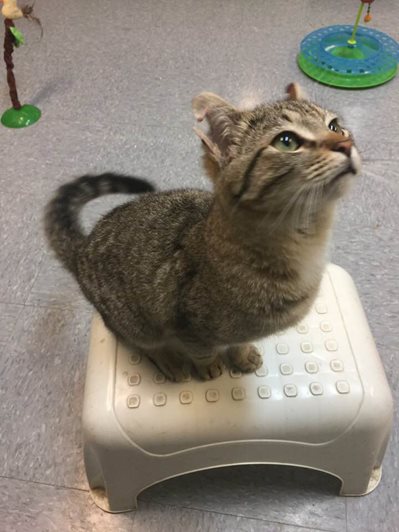 Though they've only had two adoptions of Cat Pawsitive Pro (CPP) cats so far, it surely won't be long before at least three more CPP kitties get to go home to their forever families. There seems to be a consensus among the trainers and volunteers that Joy, Jewel, and Sonny are by far the "most improved players" of the game.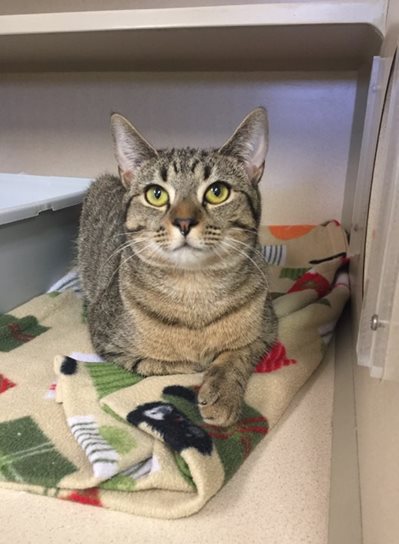 "From being afraid to come out of their kennels, Jewel and Joy have become new cats after their time with the Cat Pawsitive Pro program! They are now comfortable being out and about and enjoy playing with toys and interacting with trainers," says Julie, one of the shelter's trainers. Dianne agreed, adding that Jewel and Joy were once too fearful to even look anyone in the eye. Now they love to engage with people and get pets!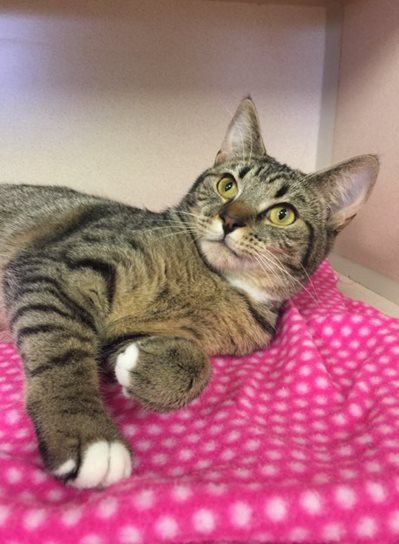 Sonny, who has been a resident of the shelter for six years, used to spend his days hiding on top of the kennels or out on the catio, avoiding any human interaction. One of the trainers, Michelle, didn't even know who Sonny was for the first couple months she worked at the SPCA of the Triad. "Someone asked me to take a picture of Sonny. I had no idea who Sonny was. I had been volunteering for 2 and half months and had never seen him. Now he comes in from the catio on his own," says Michelle.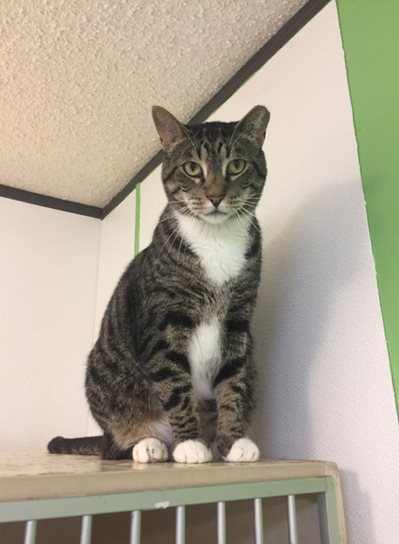 Dianne goes on to say, "One of the best moments was when [Sonny] engaged in play with a toy and then rolled over for a belly rub. This may be normal kitty behavior for most cats, but for Sonny who had never had that much trust, this was a breakthrough that I never thought I would see." Now, he even runs to greet the staff and volunteers when he hears their voices or the clicker!

The effects of the CPP training at the SPCA of the Triad stretch far and wide, reaching cats who aren't even part of the CPP program. "[CPP] has helped me focus better on learning what is needed, which I feel helps me with my cats at home as well as with helping cats at the SPCA," says Johnetta, one of the shelter volunteers. "Often there were other cats in the room as I trained the [CPP] cats and they would start coming up and offering head bumps and high fives or a sit because they were watching the training. That to me showed that this program works so well, not only with the cat you work with but the cats that are there getting 'trained' while you are there."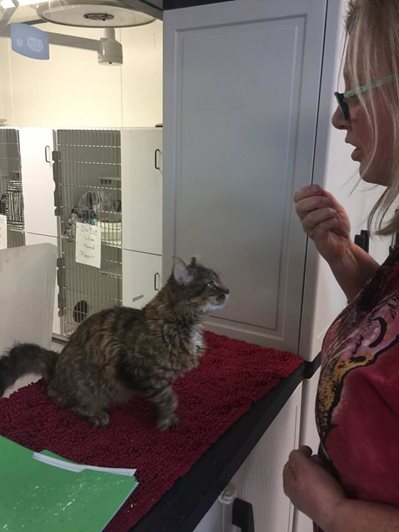 It's not just cats who have been experiencing the benefits of CPP, though. The shelter's staff and volunteers have learned many valuable lessons that they will take with them going forward. Things like reading cats' body language, understanding that cats really are social creatures, and how important it is for cats to be mentally stimulated.

"I take with me the understanding that cats can learn and they want to learn, and mostly I take with me the desire that more shelters and rescues will become involved in this program after seeing how well these cats respond to time devoted to them, and in turn better and lasting adoptions will result," says Dianne.

Jen, another one of the shelter's volunteers and trainers, hopes to take all that she has learned and share it with others. "Before, I had a few tools in my belt when working on socializing kitties such as petting, speaking softly, brushing, providing treats and toys. Now I feel like I have so many more tools that I can use. I am looking forward to sharing this information and techniques with other volunteers…It is my hope that every trainer will pass this information and skills to other volunteers, even at other shelters that may not have the resources to go through such a program," she says.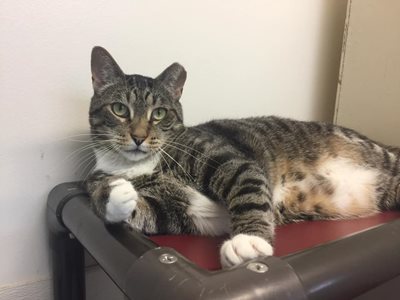 Jen also stresses the importance of passing along the training information to adopters. "One thing that needs to happen is for there to be 100% communication between the trainers and the staff member or volunteer who does adoptions and works adoption fairs. They need to know all the things the kitties are learning to do as well as explaining this to potential adopters. Adopters should be able to continue the basic training skills in order to make the transition from kennel to home smooth. A new area can be scary and intimidating so much to a cat that it may result in a failed adoption. If the owners can pick up with behaviors we have taught them involving targeting, luring and shaping, this will give the kitties a sense of normalcy. They will think, 'Hey, I remember doing Hi-5s!' I feel I cannot emphasize this enough though. … The link between the training and the adoption process has to be a strong one."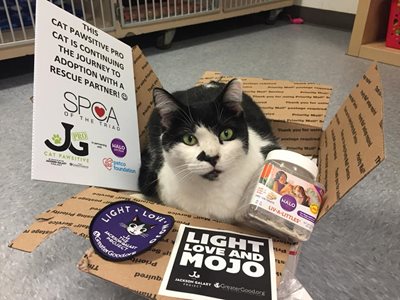 There's no denying the profound difference that Cat Pawsitive Pro has made for everyone, human and kitty, at the SPCA of the Triad. The benefits will be far-reaching and long-lasting, continuing to positively affect change for the SPCA cats, volunteers, staff, adopters, and even those at other shelters and in other communities.

Brenda Overman, founder and president of the shelter wants "to thank all of our special Jackson Galaxy Pro SPCA Volunteers for their time and efforts in improving the lives of our current cats. Special thanks to [Trainer-Mentor] Lisa and [CPP Program Manager] Christie for giving so much of themselves and always being open for questions or directions when we needed advice in a moment's notice. We are looking in participating in future events with Jackson Galaxy."
YOU can improve the lives of cats at risk. Donate today to The Jackson Galaxy Project's Cat Pawsitive Program and transform the places and people that support at-risk pets!