WATCH: Good Packs Spreads Radical Hospitality with Organization of Hope
The holiday season can be especially difficult for our unhoused neighbors and their pets. And as the COVID-19 pandemic continues to dismantle our everyday lives, more people are in need than ever. It is also logistically challenging to provide services safely, especially when gathering sizes are limited.
That's why in December 2020, Greater Good Charities' Good Packs program and GreaterGood.com partnered with Organization of Hope and their Hope on Wheels mobile services unit to deliver radical hospitality to homeless Americans, veterans, children, and families in need in the Baltimore and Washington DC area. Watch the distribution below:
Our "Home For The Holidays" campaign provided much-needed survival and comfort supplies for unhoused veterans and their pets, while our partners at GreaterGood.com generously donated protective masks, clothing, and other supplies to support individuals, families, and children in need.
"The homelessness crisis in the U.S. has been made much worse by COVID-19," said Liz Baker, CEO for Greater Good Charities. "Good Packs and Pet Packs provide a much-needed resource to unsheltered people and their pets. And thanks to our partners at GreaterGood.com and Organization of Hope we are able to do much more and reach populations who need it most."
Good Packs all contain supplies such as blankets, food, hygiene items, dog toys and treats, along with other comfort and survival goods to ensure those who receive them have a broad range of useable items, while the pack itself is useful to carry items as needed.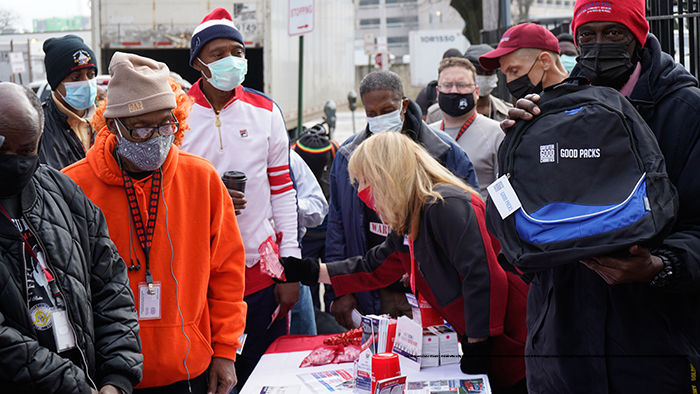 Between November and December 2020, the following items were donated through Organization of Hope:
500 Good Packs ($44,950)
300 Pet Packs ($17,964) 
$15,199.55 worth of women's coats, fleece hoodies, slipper socks & sweater boots
$8,190.05 worth of women's rain jackets, fleece coats & scarves
$19,357.44 worth of non-perishable food, plates, cups & utensils
8,000 3-ply disposable face masks ($8,000)
8,000 Level IIR medical disposable face masks ($9,600)
None of this is possible without your support. Thank you for supporting your neighbors in need at this critical time.