Australian Wildlife on the Mend
Thanks to your donations, wildlife in Australia is healing as their habitats do too. The Greater Good Charities team is still working with partners on the ground in Australia to help the victims of the wildfires that ravaged the country earlier this year. One of these partners is the International Fund for Animal Welfare (IFAW).
IFAW is assisting with veterinary care, equipment, the building of safe structures for housing, and more. The latest numbers showed more than 178 rescued koalas.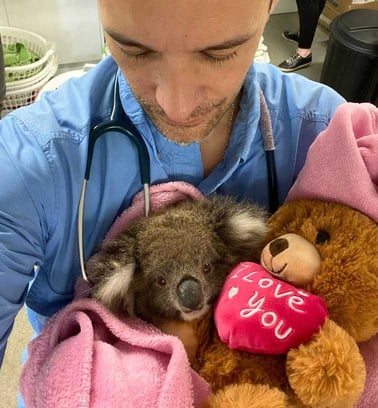 In February 2020, IFAW contracted wildlife veterinarian, Dr. Paul Ramos to help provide veterinary care at Possumwood, a wildlife treatment facility that has been inundated with animals suffering from burns.
Wildlife Goes Viral
While there, his work with koalas received some international attention. The video that captured hearts around the world was one of a recently orphaned baby koala. While mourning the loss of her mother, the brave koala cub found strength in a stuffed koala presented to her by Dr. Ramos.
"I always have my phone on me and so I like to capture moments," Dr. Ramos said of his experience.
He recalls another touching moment with a kangaroo and her joey.
"This mama, her ears are blackened and tarred, she might lose them, her fur is all singed, her hands and feet are completely burned. You could tell she had been through a lot. Her baby was completely untouched."
Dr. Ramos says the baby would not have lived, had its mom not done everything in her power to keep him in her pouch and protect him, even if it meant risking her own life.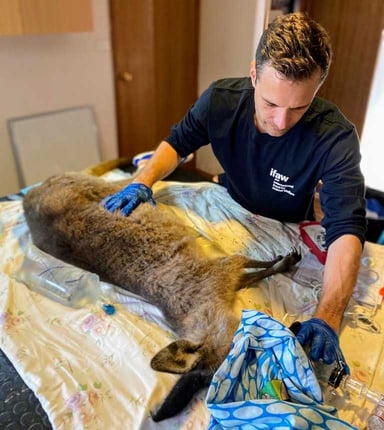 Still a lot of Work to be Done
Though the fires have died down, the work isn't done. Dr. Ramos says that there are still hundreds of animals healing and waiting for their environment to be hospitable once again.
"This is not the first and definitely not the last time we're going to see these massive natural fires," Dr. Ramos said. "Going forward, for the next few months to years, these animals need to be supported in some way."
While some animals are taking longer to heal, most of them just don't have a home to return to right now. With bare trees and little to no grass, these animals would likely starve if released back to their homes.
Currently, injured animals at staying at clinics, warehouses, and even volunteers' homes. Dr. Ramos believes funding for these immediate needs is crucial, but there are other ways to help.
How You Can Still Help
"Going forward, we need to think about the future, big picture. These extreme fire seasons are not natural, so what are we going to do to prevent these things from happening?" Dr. Ramos said.
Dr. Ramos believes small changes in our lifestyles, who we vote for, and truly thinking about what kind of future we want to have, can prevent these natural disasters from happening over and over again.
Donate to support Project Peril's efforts to preserve critical habitat and stop the illegal wildlife trade.