Emaciated Dog Saved from Backyard. Homeowners Claim She's Not Theirs. 😡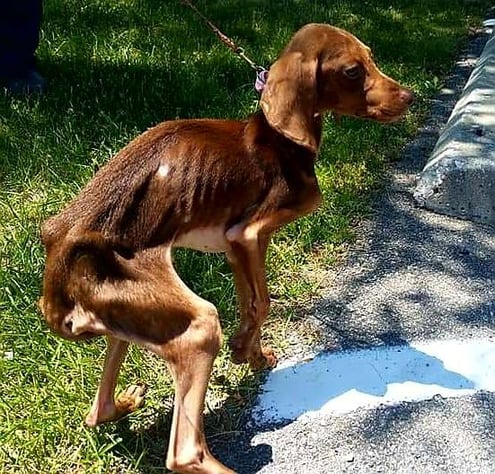 Junebug before 😔
Owners Look the Other Way
Junebug was picked up by animal control from a backyard in the Midwest. The homeowners claimed she was not theirs, which seems quite suspect. The abuse case is still open. The shelter vet rated Junebug on a scale of 1 – 4; she was a negative 1/2. He believed euthanasia was best.
The vet identified Junebug as a vizsla, so a local vizsla rescue came to pick her up. Junebug was so emaciated that she scared them away. Next, the vet contacted Midwest Vizsla Rescue (MVR) since they have malnutrition experience. Junebug weighed just 9 pounds at the time, with green tooth tartar and horrific malnutrition.
Emaciated Dog Finds a Way
She was so weak that her back legs couldn't support jumping. Junebug could trot back to the house and stand for a few minutes but would then wobble and sit. MVR immediately placed her on a concoction of GreaterGood.org donated food loaded with probiotics and other supplements. She responded slowly but steadily.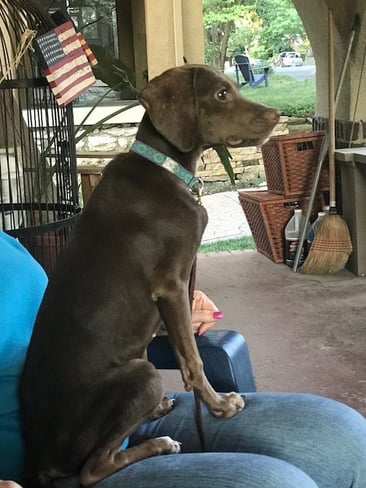 Nothing but Blue Skies
Today Junebug is doing great! Where she never barked, she has now found her voice. She has a darling personality and can hold her own with larger dogs. Over three months, Junebug went from death's door to "nearly chubby," according to the MVR. Her coat darkened due to recovering from malnutrition. MVR doubts she has any vizsla in her at all, but they continue her rehabilitation, and the vizsla community has rallied around, which is truly beautiful.
Forever Home
Due to her past, Junebug will always feel food-deprived. She eats out of a special bowl to slow her down. She is beginning to share toys, humans, et cetera, which was not the case in the beginning. Junebug fought for everything, but food and toys come easily now, so she has begun to share and play with the other dogs. She is now well enough that she'll be leaving for her new forever family outside of Dallas in a few weeks! 🎉 🎉 🎉