Shelter Bowl 2022 Scores 3 Million Meals for Shelter Pets
We're thrilled to announce that our Shelter Bowl's final score came in at OVER $150,000!
And, as part of its ongoing support of shelter pets, Purina generously matched your donations to provide an additional $25,000 donation of its nutritious, science-backed pet food!
This is a SUPER win for shelter pets as these donations will deliver much-needed food to shelters across America! Pet food is typically the largest expense of any animal shelter, and the coronavirus pandemic has only created more economic hardships. This year your donations go to shelters hit hardest by the coronavirus pandemic to help free up cash resources that in return can be used for services like veterinary care.
That's why your Shelter Bowl donations will go a long way to help pets like Finnegan!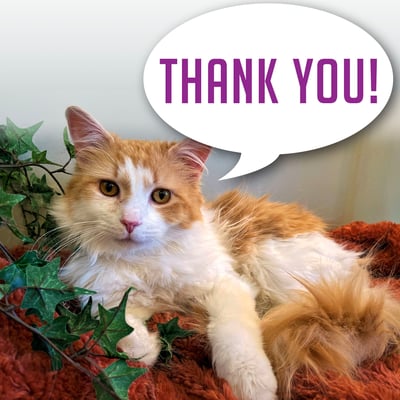 Finnegan was trapped in a neighborhood, finding food and warmth wherever he could. He was in very bad shape, not neutered, un-vaccinated, full of parasites, had ear mites that caused an ear infection and upper respiratory infection, horribly matted fur, and frostbite scarring on his face.
When shelters spend extra money on food, there is less available for other life-saving programs such as medical care, vaccinations, or resources for fosters. Your Shelter Bowl donation help take that burden off of shelters and transform the lives of more pets like Finnegan!
Thank you so much for joining the team for this year's Shelter Bowl! Your donations made a real-life impact on shelter animals across the country.