Florida Keys SPCA; The "Key" to Rebuilding
2017 proved to be a rough year for natural disasters. As wildfires swept through California, Hurricane Harvey was wreaking havoc on the southern part of Texas and Louisiana. On the coattails of Hurricane Harvey was Hurricane Irma. Irma left a path of destruction all through Florida and the East Coast and the Caribbean islands. Irma hit the Florida Keys especially hard.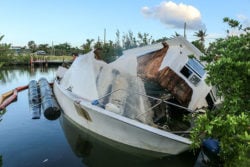 Finally, the storm had dissipated, and it was time to assess the damage and try to rebuild. However, it was tougher to rebuild for some than others. How does a shelter that primarily runs off of donations even begin to rebuild when like so many other shelters all of their money is spent caring for their animals? That's when Florida Keys SPCA contacted Rescue Rebuild. After assessing their damages and needs, it was a perfect fit for Rescue Rebuild to deploy their resources and get Florida Keys SPCA back up and running again.
Their shelter was once home to several, mature trees providing shade to the play yards and outdoor kennels filled their back property. However, once Hurricane Irma blew through they were left with all of their shade trees completely uprooted and their kennels, play yards and perimeter fencing all destroyed by these uprooted trees. Without even as much as a perimeter fence, they couldn't utilize any of their space and dogs couldn't get outside to release their energy. This may not seem like a big deal, however, if a dog isn't able to go outside to release their energy, they will become loud and overactive inside their kennels and less likely to be adopted. This is why this build was so important. We had to give these dogs a place to exercise so they would become more adoptable in the eyes of future adopters.
We finalized blueprints, ordered materials and we were off to Florida. November months in most places are usually cold. However, that was not the case here. Mid 80s with the extreme humidity is well over 100 degrees. By 8 am it felt like a mid-August Oklahoma afternoon. Hot AND humid.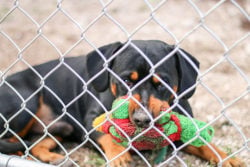 John Coffee enjoying his favorite toy
Once the plane landed, it didn't take long to see the devastation. Toppled trees and debris littered the landscape. Houses and businesses all had significant damage. Boats were capsized or even washed ashore. Piles of broken lumber that was once a part of someone's home, tree limbs that once made up big, mature shade trees, miscellaneous home furnishings that once adorned a beautiful house, and even children's toys and clothing among many other things were piled up alongside roads waiting to be picked up by waste services. Having seen footage of the damage on the news still didn't adequately portray the damage as vividly as seeing it in person.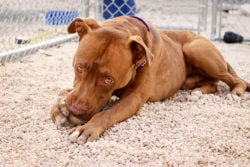 Clifford and his favorite toy
The plan was to build two new outdoor playpens, three outdoor kennels, an isolation kennel, and a small animal enclosure. This would get them back up and running and the sooner we could get this completed the sooner these dogs would be able to see some sunshine and play.
Our first step was to layout all the posts and start digging. Just under 90 holes to be exact. Immediately upon starting this project, we encountered our first obstacle—the Florida Keys coral rock. We were expecting dirt; unfortunately, what we found was all rock. Our shovels and dig bars weren't going to work. We had to rent a 60-pound jackhammer and hammer through feet of rock for every hole. It was a group effort trying to get all these holes dug. We were taking turns on the jackhammer, as it didn't take very long for it to wear you out. Days and days were spent breaking up enough rock to set the posts, but with perseverance, we dug all of the holes.
With the holes dug, we set the posts and strung the chainlink. After so much effort was put into digging the holes, the rest of the process seemed a little easier. While four of us were working on completing the maze of chainlink that comprised the playpens, outdoor kennels and isolation kennel, there was another group working hard lugging heavy concrete bags to the mixer so that they could repair the concrete slab allowing us to build the animal enclosure on top later that week. Each bag of concrete weighs 80 pounds. So, 80 pounds at a time was carried to the cement mixer, mixed, then wheeled to the appropriate area. At least 100 bags were mixed that day which made for some very sore legs and backs!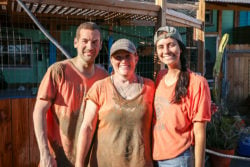 The "Concrete Crew" after a long days work
Slowly things were starting to take shape. All the kennels and play yards now finished, and the concrete slab in the back was poured and in the process of curing. While we were waiting on the concrete to cure, there were still plenty of other projects to tackle. We laid a paver walkway, built new shelves inside a utility closet more than doubling its storage capacity, gave a donated storage container a fresh coat of paint, and built new shelves inside the container.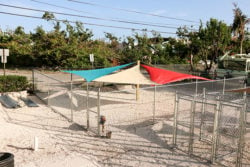 New play yard with sun sails!
Now it was time to work on the small animal enclosure on the freshly poured concrete slab. This enclosure consisted of four walls being wood half way up and sturdy wire the rest of the way giving plenty of air circulation and sunlight, while the corrugated roof provided shade. This setup works great for many different situations. It can be used to house wild animals that are sometimes brought in such as opossums or raccoons, or the occasional rabbit, even for puppies so they can enjoy some outdoor time contained to a smaller, secured area. Whatever the situation, these enclosures work great.
With all those projects completed there was one more that we couldn't leave without addressing. The room that housed the kennels was pretty small and compact. Which meant it could become quite loud once the dogs started barking. One way we thought to combat this was to put up colorful dividers on the bottom of the kennels that kept the dogs from seeing the other dogs. This was a very easy way to keep the barking to a minimum and gave the room a lot of color which can brighten anyone's day.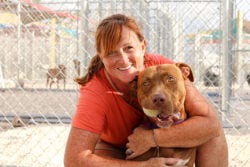 Clifford and Bryn
With all the devastation delivered to the area, it was a humbling experience to be able to help out. I learned several useful lessons while I was there, but the one thing that stood out the most was the attitude of the community. The community, the great shelter staff, and even the other contractors in the area were all upbeat and positive. Their city had gone through so much, but even with the constant reminders strewn about everywhere, they knew that their city would rebuild and be greater than it was before. It was amazing to see how resilient and positive they were in spite of all the devastation. I saw how they didn't let this disaster define them or their community and know that in the future I can look back at this experience and what I've witnessed firsthand and can "weather" any storm!
If you would like to keep Rescue Rebuild helping animal shelters affected by natural disasters please, click
HERE