Improving the Lives and Adoption Rates of Shelter Animals in Bowling Green
Recently the Rescue Rebuild crew took a trip to Bowling Green, KY! The project, which has been over a year in the making, was originally planned for 2020 but was rescheduled due to Covid. During that year, the Bowling Green Warren County Humane Society (BGWCHS) was able to move more than 10,000 animals through their shelter which is an incredible number for the resources they have available. We couldn't wait for the opportunity to help them expand their facilities and help more animals for years to come.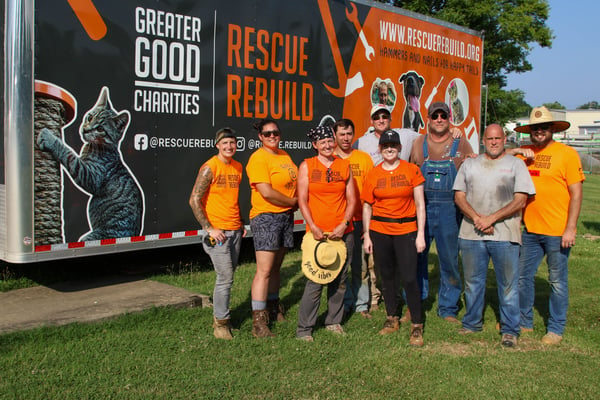 Our amazing Rescue Rebuild team 💪
The first big project at the BGWCHS was to give the dogs in the intake building a place to run around and play. There were already two play yards but those were mostly used by the dogs who had moved on to the adoption building. Now there are over 500 feet of new fenced area for those dogs to play in. We also added some tire tunnels for the dogs to jump on and run through along with coyote rollers on top to stop even the best escape artists.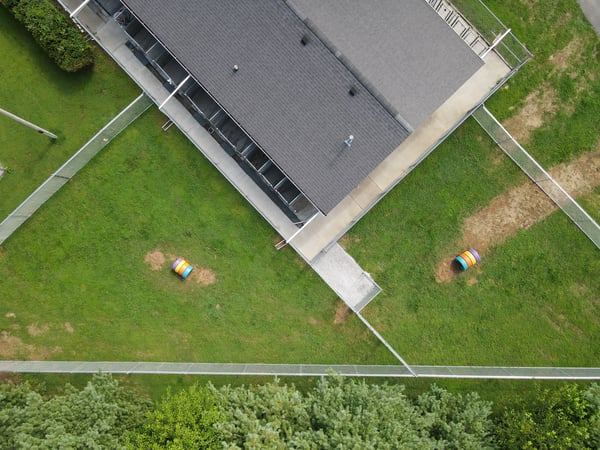 Look at all that space!
Next, we teamed up with a group called Dogs Playing for Life who help train shelters to manage playgroups with shelter dogs. We split one of their play yards into three interconnected sections so it can be used as a large play yard and introduction space. It was incredible to see over 15 rescue dogs who had never met each other playing peacefully in such a short period of time.
Check out this video from Dogs Playing for Life to see how it works!
We also added a set of bleachers adjacent to the play yards for potential owners to watch how the dogs interact with other dogs. Before we left, there was already an adoption that only happened because the owner was able to watch the dog playing and interacting with many other dogs. It was truly special.
Last but certainly not least, we constructed a brand new all-metal catio immediately outside their adoption building. Now different cats will get some time outside every day and the staff can feature cats for everyone to see. We even saw they gave some rabbits solo time in the catio as well! The catio is now a perfect multi-purpose space to feature long term residents.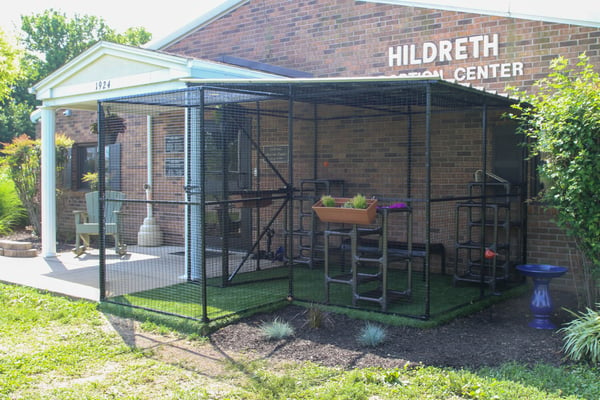 The brand new all-metal catio installed outside!
Our time spent at the BGWCHS was as fulfilling as it gets. It's always ideal when we can come in and make an impact on the lives of just about every animal coming through the shelter. We are confident in the staff that they can use the tools provided and keep helping more animals every day. They treated us like family from the first moment until we left, just like they treat their animals. We left feeling confident in the future for animals in their care!
Your donation to Rescue Rebuild powers shelter renovations like this across the nation!