Good Packs Heightens the Power of 'Ohana on Kaua'i
Hawaii is a popular "bucket-list" vacation destination for people all over the world. It should not be surprising that the travel restrictions surrounding the Covid-19 Pandemic would impact the islands, but the reality of just how severe that impact is almost as breathtaking as the state's natural attractions, though far less beautiful.
The tourism industry makes up about 21% of the entire Hawaiian economy, and in 2019 it accounted for approximately 216,000 jobs (source). That's about 15% of the entire Hawaiian population (census). This has inevitably led to the state having one of the largest covid-related unemployment growths in the US. According to the Hawaiian Tourism Authority, in October of 2020 visitor arrivals decreased by a colossal 97.4% compared to the same time frame the year before (source). This devastating blow has also left a tremendous number of families facing hunger for the first time in their lives.
On Kaua'i, the 4th largest Hawaiian island known as "The Garden Island" for its emerald valleys and tropical rainforests, the number of residents who face food insecurities has risen by a monstrous 75%.
To make matters worse, in early March of 2021 Kaua'i got drenched with rain that caused a large landslide at a portion of Kuhio Highway, the only road leading in and out of Hanalei, and cut off all communities west of the Hanalei Bridge from the rest of the island.
In addition, the impact of the pandemic on the food supply chain has hit Hawaiians especially hard, raising grocery prices on the islands by nearly 12% since spring of 2020 (source).
The decrease in income and increase in food costs have stressed the ability of the island's residents to provide nutritional food and essential supplies, not just for the people in their families, but for their four-legged family members as well.
Greater Good Charities recently provided the Hawaii Foodbank Kaua'i with pet food as well as Good Packs and Pup Pouches for them to distribute throughout the community by volunteers and their local partners. Good Packs, a signature program of GGC, contains essential items for homeless individuals and their pets.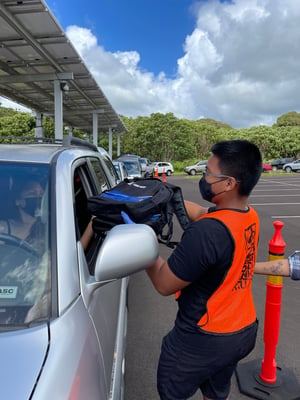 Volunteer Jaevyn Navarro carefully handing over a Good Pack to a recipient during Hawaii Foodbank Kaua'i Na Ho'omaka Hou Pop-up Food Distribution
Photo © Tisha Ruiz, Hawaii Foodbank Kaua'i Communications & Grants Coordinator.
"With the shortage of supply here on the island, having this bountiful delivery of pet food allowed 'ohana of Kauai to have the supply needed, creating an immediate outcome of relief. By providing recipients with Good Packs, and their pets with pet food, they can focus on paying for further necessitates such as their rent or utilities'' - Wes Perreira, Hawaii Foodbank Kaua'i Director
Pet food is something rarely seen at the food bank, let alone the demand in supply, and to have been able to serve residents and their pets was a phenomenal achievement.
Along with 300 people that received our Good Packs, the support from Greater Good Charities also allowed Hawaii Foodbank Kaua'i to serve a total of 1,480 animals (1,320 dogs and 160 cats). This support continues to help residents here on Kaua'i by providing a service that Hawaii Foodbank Kaua'i previously has not so much put focus into.
"Hawaii Foodbank Kaua'i is so fortunate to have provided essential service with items to residents upon the support from product donors, easing the burden of not being able to provide necessities not only for themselves but for their pets as well."
This donation from Greater Good was made possible by our Memorial Day campaign, launched to remember those who have fallen by helping those who have served by providing Good Packs to Hawaii. Unsurprising given its location and history, every branch of the armed services has stations throughout the state. With nearly 25% of those experiencing homelessness being veterans who fought for our country, our Good Packs program initially debuted in October of 2020 to address this growing number of unsheltered veterans around the United States. Pup Pouches, a more recent addition to the program, were developed to allow vets with comfort or service animals to address their pets' basic needs alongside their own. Our Memorial Day campaign was so successful that we have another shipment of Good Packs on their way to The Pantry in Honolulu where there will be a small distribution event on June 25th.
Your donation to Good Packs provides essential supplies to homeless individuals across the country!