18 Ways We Amplified the Good Together in 2022
2022 was not only a year of incredible impact but 15 years of Amplifying the Good with Greater Good Charities. This year, with your support, we celebrated a milestone of more than $475 million invested in our mission to help people, pets, and the planet.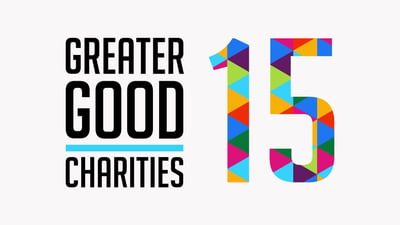 Let's take a look back at some of what we've accomplished with our amazing community of passionate donors! Together we:
RAISED millions of Pet MEALS during our Annual Shelter Bowl
In February our annual Shelterbowl campaign raised OVER $150,000 which provides more than 3 MM meals for animal shelters! This is a SUPER win for shelter pets as these donations deliver much-needed food to shelters across America!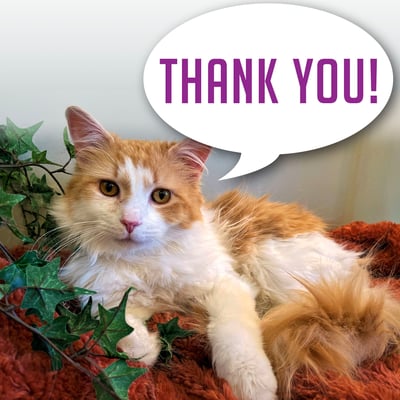 Supported Ukraine in Crisis
Greater Good Charities has been on the ground since March working to provide relief to the people and pets of Ukraine. We have funded over 9.5 million meals via local partners and food banks and more than 31.6 million meals for pets (owned and shelter)!
Initially, we focused on helping refugees to safety in neighboring countries, but now in the 10th month of the war, our long-term goal is to help the people (and pets!) remaining in Ukraine.
The country is in shambles due to Russia's continued attacks (especially those targeting infrastructure such as power plants), and the people who remain are faced with harsh challenges every day. We're committed to continuing support for these people and pets experiencing an immense crisis, especially through food.
Provided Meal Kits and Other Essentials to people in liberated areas
As the war continues, thousands of people in liberated areas of Ukraine are living with limited access to food, water, sanitation, and other basic services.
That's why we developed meal kits to help families stay full and healthy. These meal kits contain ingredients to make 78 meals - enough to feed a family for a month! These meal kits are a huge source of health, hope, and comfort for people like Maria.
Our team met Maria while distributing humanitarian aid in Verbivka. Maria, a local teacher, was unable to leave during the invasion since her husband was seriously ill. She stayed throughout the occupation, living with the others who stayed in a constant state of fear. Now, Maria and other Ukrainians face the threat of a brutal winter, its dangers intensified given the destruction of infrastructure. But generous donors like you continue to be a hero for these brave Ukrainians by sending them life-saving meal kits and essentials!



Shared Food and Hope with people in liberated areas
Our ground team also utilized pizza parties to share some fun, hope, and to remind the families living through the uncertainty and war that they are not alone.
With our partner, Siobhan's Trust, we served hot pizza to thousands of people in L'viv. The community came together to dance, sing, and eat a warm meal with their families and friends. And YOU helped make this possible.
Fed Desperate Pets in Ukraine
Without basic infrastructure, shipping things in or out of Ukraine is more difficult than ever. Unfortunately, this means many animal shelters have run out of food caring for the influx of displaced pets. That's why Greater Good Charities partnered with a pet food manufacturer to provide tons of pet food and distribute it in Ukraine. This life-saving pet food doesn't just go to animal shelters, but also to generous volunteers who feed local cats and dogs!
Recently, Greater Good Charities and our partner Save The Dogs distributed 285 tons of food to help abandoned pets fighting to survive in Ukraine. As people fled their homes throughout the year to find safety, thousands of pets were left behind to fend for themselves.
Lena, one of Save the Dogs volunteers, goes out every day on a bicycle, attaching bags of pet food, makeshift plastic food and water bowls, and sometimes blankets to the back of her bike. When she heads into rural areas, she finds hundreds of pets gathered together, waiting desperately for a volunteer to bring food.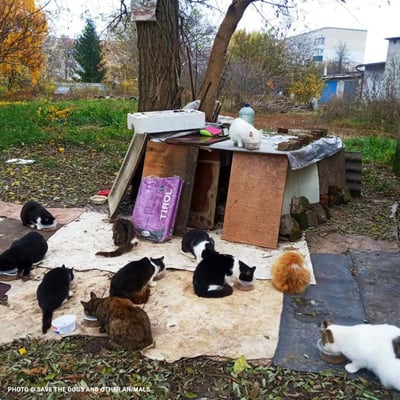 © Save the Dogs and other Animals


Rescued Mir the Lion
While working with Warriors of Wildlife on the emergency relocation of a circus bear, we were alerted to this beautiful lion, Mir, and knew he couldn't be left behind!
This sweet boy was located in a western area of Ukraine not far from Lviv, and had nowhere to go as the country fell into turmoil. Being kept in a cage covered in filth and lack of clean drinking water, his future seemed to be non-existent.
Just like so many other people and animals throughout Ukraine, each day for Mir has been completely terrifying. Warriors of Wildlife made a swift decision to get him out of Ukraine and into a safe environment. He has safely entered Romania where he will temporarily stay at the zoo while logistics of his future are set. His new home will be a species-appropriate area where he can live peacefully and enjoy being a lion at our Simbonga Game Reserve & Sanctuary!
© Warriors of Wildlife

Launched: GOODS Program
This year we launched our GOODS Program! This program supports those in need across the world, including pets (with homes and without), families facing economic hardships, unhoused populations, veterans, domestic violence survivors, and victims of disasters. GOODS distributes food, essential supplies, clothing, housewares, toys, and more to pets and people during times of crisis. Since its launch, GOODS has already delivered over 530 million pet meals!

Provided Disaster Relief for Hurricane Ian
When Hurricane Ian hit Florida, it brought severe destruction. With destructive winds of up to 155 miles per hour and torrential rain, it caused life threatening storm surges and massive amounts of flooding. This threw communities, businesses, people, and animals in severe crisis.
Fed People in Florida
After the storm, many Florida food banks saw a significant increase of visitors in need of nutritious food for their families. Your support allowed us to work with the local food bank, Feeding Tampa Bay, to distribute food to about 25,000 people affected by the storm and subsequent lack of basic necessities like electricity. Not only that, but thanks to the outpouring of support from donors like you, Feeding Tampa Bay also was able to distribute food resources such as water, prepared meals, and grocery boxes to smaller food banks in outer counties that are also in need!
Fed Displaced Pets in Overwhelmed Shelters
Unfortunately, Hurricane Ian also left thousands of dogs and cats in danger. Some of these pets were separated from their families during the storm, some were left behind by families seeking safety, and some got lost when shelters were damaged.
Your support powered us to quickly respond to the urgent requests for pet food from shelters in areas affected by the hurricane. Donations from generous people like you sent pet food to the Florida State Animal Response Coalition for distribution across the state. This provided over 40,500 meals for hungry displaced cats and dogs!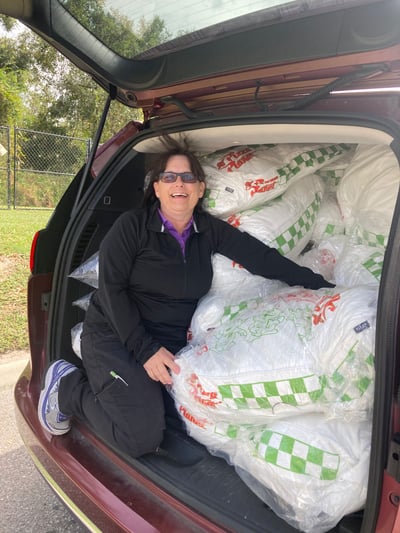 © Florida State Animal Response Coalition SARC
Flew At-Risk Shelter Pets to Safety
We also organized emergency flights to evacuate at-risk shelter animals as another way to alleviate the struggles of overcrowding in Florida's animal shelters impacted by Hurricane Ian. By flying these dogs, cats and Guinea pigs out, it creates room in shelters for incoming displaced pets and increases the chances of missing pets getting reunited with their families!
We transported 150 pets from shelters make room for the large numbers of incoming displaced pets. This includes flights before the storm to evacuate pets at shelters in the expected path as well as flights amidst the storm's aftermath to save displaced pets! These pets have YOU to thank for their safety.
Saved Starving Bees
The hurricane also left an ecological disaster in its wake. The massive storm wiped out much of the natural forage used to feed pollinators, leaving the bee populations who did survive at risk of starving. The loss of these countless bee colonies could permanently damage our country's food supply.
When we sent out a call for help, our amazing community of donors responded quicker than a bee can flap their wings! Your support rushed more than 500,000 pounds of syrup and over 117,000 pounds of pollen substitute directly to Florida to help save the starving bees.
The response created so much buzz that even CNN highlighted our work!
Saved Starving Manatees
Did you know that in 2021, about 15% of the Florida manatee population passed away? It was the deadliest year on record for manatees and these deaths occurred due to starvation. Mothers who can't find enough food for themselves feed their babies until they're no longer able to. Fortunately, rehabilitation facilities have a 96% success rate at rehabilitating and releasing manatee calves!
And this year you were a hero for these threatened manatees and provided produce for manatees recovering from malnutrition.
Flew 200 Beagles REMOVED from Breeding Facility in Historic Operation
This summer Greater Good Charities joined forces with iheartdogs.com and the Humane Society of the United States (HSUS) for two flights to fly more than 200 beagles from Maryland to new adoptive homes on the West Coast. The beagles were part of a historic operation spearheaded by the Humane Society of the United States to rehome approximately 4,000 beagles removed from Envigo, a mass-breeding facility in Cumberland, Va., riddled with animal welfare concerns.
The flights only happened because of YOUR amazing support!
Celebrated 15 Years of Amplifying the Good
In the summer we celebrated our 15th Anniversary with several on-the-ground activities around the world!
Helped Hawaii's Cat and Dog Overpopulation
You powered our team to fly to Hawaii and help with their ongoing problem with community cat overpopulation. Our Good Fix team hosted free clinics on multiple Hawaiian throughout the year for owned and community cats and dogs. At the clinic, we offered free spay/neutering, vaccinations, and microchipping. Thanks to your help, Good Fix has now safely sterilized more than 8,600 cats and dogs!
Improved Quality of Life for SHELTER Pets in Louisiana
For one of our on-the-ground events, our Rescue Rebuild team and volunteers went to Acadiana Animal Aid (AAA) in Louisiana to make improvements to the shelter and its facilities. The crew worked on exterior improvements, fencing, signage, cat rooms, a new catio, flooring, painting, and much more alongside local volunteers, helping AAA find so many more pets perfect homes. These updates enhance the quality of life for the shelter pets and increase their chances of being adopted!
CELEBRATED GOOD FLIGHTS 100TH FLIGHT
This fall our Good Flights team celebrated their 100th flight! These life-saving flights transport at-risk shelter pets out of overcrowded shelters or disaster areas to improve their well-being and chances of adoption! This impactful work only happens with your support and together we've saved thousands of at-risk shelter pets!
Look at all we've done to amplify the good around the world this year! And this is just a snapshot!