Escambia County Animal Shelter: From Bland to Grand
Florida has been a popular location for Rescue Rebuild in the last couple of months. It all started with two disaster relief builds stemming from the recent devastation of Hurricane Irma. The first of these being in Marathon, FL at the Florida Keys SPCA, then to Daytona, FL at the Halifax Humane Society. Immediately following the completion of both disaster relief builds, Rescue Rebuild found themselves once again on the road. This time headed even further North to the Escambia County Animal Shelter in Pensacola, FL.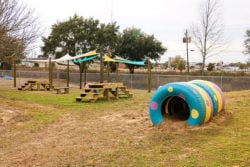 Agility steps, tunnels and sun sails makes this play yard fun for dogs of all ages
Escambia County Animal Shelter was a very deserving shelter that employs an amazing and knowledgeable staff but like so many other shelters across the country, there were building improvements that if corrected could really boost adoption rates. If you've ever visited a county building most are drab, cold and rather intimidating. This instantly puts the shelter at a disadvantage because it deters people from coming inside and potentially adopting a loving pet.
Instead of drab and cold, we wanted to make not only the outside of the building open, warm and welcoming to everyone but also the inside. Their outdoor play yards had lots of room for expansion, and with some inventiveness, we were even able to make room for one of our favorite feline specialties – The Catio; which is a covered enclosure allowing cats to roam and play as they wish inside or outside. The other cat rooms were needing a little "pick-me-up" as well, as were the loud and deafening kennels. Our to-do list was long and challenging but what we would soon find out was the community of Escambia County was more than ready to lend us a helping hand!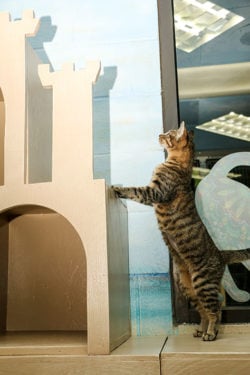 Belle checking out her new sand castle-themed cubbie!
Normally with a list this long, we would have allotted two to three weeks for this build. However, for this to come to fruition, we had to complete it in only nine days! Not only did we have the daunting task to try and complete this in record time but PBS was also filming a documentary about Rescue Rebuild in an upcoming episode of "Shelter Me" during this build. To say our plate was full would be an understatement. Many late nights and early mornings were upon us.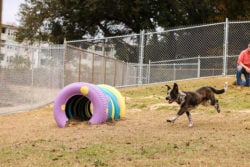 Bourbon enjoying the larger play yard and agility tunnels – the following week he was ADOPTED!
With our project list finalized it was time to get started. The best way to tackle such a big task was to divide and conquer. All of us had several groups of volunteers working on different projects. Outside we had groups setting posts in the ground for the new larger play yards, painting the outside of the building in fun, bright colors and clearing the ground and laying out the forms for the new Catio. We even had groups of Boy Scouts setting huge posts for sun sails and Cub Scouts making dog beds and play mats! On the inside, we had groups breaking up the existing tile in the main lobby, painting the new lobby and demolishing their existing front desk. This was just the first day!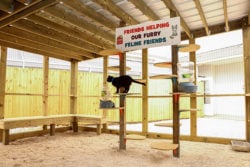 Shadow enjoying the fresh air in the Catio
Many long hours followed for the rest of the nine days including many shifts over 18 hours. Although everyone was exhausted, projects were completed on time, and the shelter was looking like a completely different place. We expanded all three play yards, all with double containment gates, huge sun sails providing dogs shade on those hot, sunny Florida afternoons, and agility steps for better enrichment. We even built bleachers for the community to use while watching seminars hosted by shelter staff utilizing the "Dogs Playing for Life" program in one of their new play yards. This teaches the importance of playgroups and how a dog's ability to play in groups brings out their true personality and makes them more sociable and more importantly adoptable. The outside of the building was now finally painted, and the completed Catio allowed cats not only to be let out of their cages but roam freely inside and out. The kennels even received sound baffles to help soften the barking, reducing a dog's anxiety!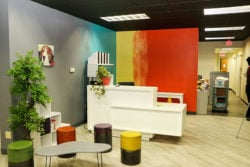 New lobby
On the inside, we had groups of volunteers completely revamping the main lobby. This included new tile, paint including an ombre wall, colorful and fun decals, and even a brand new desk and furniture. We wanted to give the cat rooms a Pensacola theme. What better way than to make them beach style with murals on the walls, gravel tile floors, a bench/cat cubbie in the shape of a sandcastle and tiki hut. Walls were removed to enlarge one cat room full of cat perches, enrichment, and even cat hammocks! In honor of Pensacola's own Blue Angels, we hung a wooden replica of their planes with LED lights as their contrail. What a way to honor their dedication and service to our country!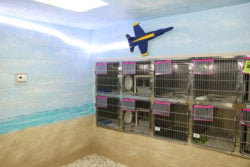 Pensacola, Home of the Blue Angels themed cat room
Over the course of nine days, the community of Pensacola came together and proved that anything is possible. Over 400 volunteers came out to show their support for the Escambia County Animal Shelter and their shelter pets by donating their time. We even had numerous volunteers show up in a pouring thunderstorm eager to help. It was inspiring to see a community come together for one purpose and that's to help shelter pets get adopted. No matter the task, no matter the weather, they were going to do whatever it took to ensure more pet adoptions!