Let the Good Times Roll… and Run… and Climb
Rescue Rebuild is a community-driven volunteer program that works to rebuild, repair, and renovate animal shelters and rescues in need.
Rescue Rebuild headed to New Orleans, Louisiana for a day full of helping shelter animals have a happier and healthier life. Special shoutout to the 50 volunteers who walked off the bus ready to work! It takes a special group of people who choose to take time out of their busy lives to help make a positive difference in the lives of these shelter animals.
The list of projects was a long one!
The Jefferson Parish Eastbank Animal Shelter had an existing chainlink dog play yard, but it was large enough to split into two, giving the staff yet another outdoor space for dogs to explore out of their kennels. Volunteers built benches for the staff who supervise the playground and for the dogs to sit on when they've had a little too much fun. In addition, the team built agility steps to go up and down, tire tunnels to run through, and sun sails for hot, sunny days.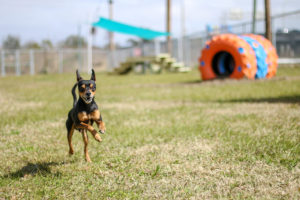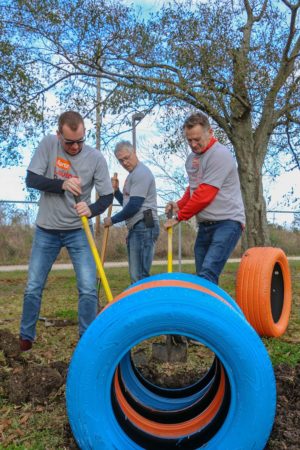 The dogs were not the only ones to get upgraded outdoor spaces. The team also constructed a brand new outdoor "catio" for the kitties to get fresh air, stalk birds, and bask in the Louisiana sunshine. With green turf to roll on and wooden trees with leaf shelves to perch on… the cats are basically free in the wild… just much safer!
The indoor spaces needed some love too.
The shelter's current animal intake room was painted a bright red—not a great option for confused and frightened animals, so volunteers repainted this room and the cat room next door a pastel blue, bringing peace and comfort to these animals.
At the entrance of the cat room, volunteers built a double containment system to keep cats safe when staff or potential adopters enter the space. The team also added fun new cubbies and shelves all up along the walls for kitties to climb into and up.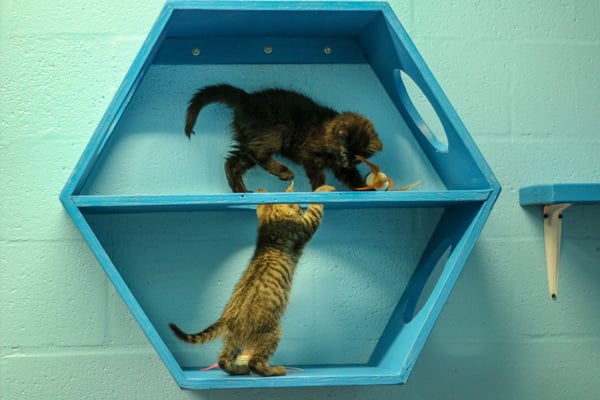 With this shelter being quite old, many of the kennel doors had been worn down, but volunteers were able to help replace about 30 dog kennel doors that desperately needed rewiring.
With the help of our volunteers, the Rescue Rebuild team was able to come together and truly help make lives better for many shelter animals. A hardworking, positive attitude is all it takes!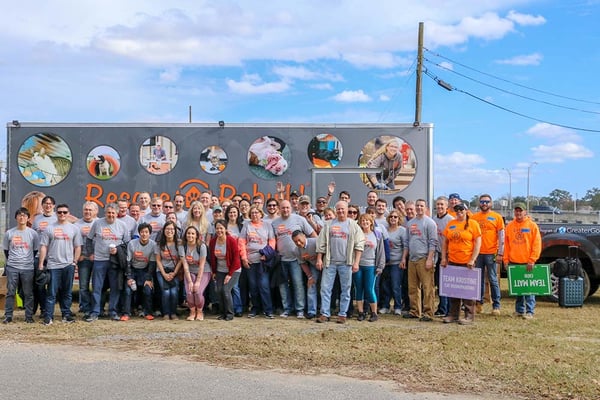 Your donation to Rescue Rebuild gets more dogs out of their kennels and out in play yards!