Rescue Dog Shot Three Times and Left for Dead
A Shocking Act of Violence
Someone shot Dusty, a beautiful rescue dog, three times—once in the head above her right eye, once in the ear, and once in her hind leg—and left her to die in a small wire crate. At the time, Dusty was a six-month-old, 30-pound pit bull in a crate designed for a ten-pound dog. How could anyone do such a thing to man's best friend? The special bond between humans and dogs is one of life's greatest gifts. The fact that a person could do this to Dusty shakes us to our core.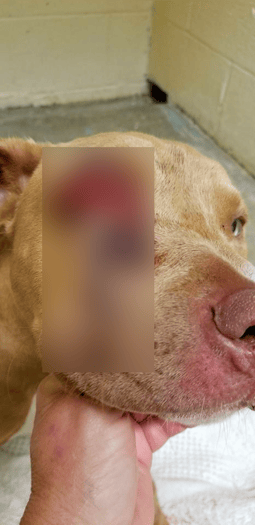 Dusty after the shooting. This pic is so graphic that we had to blur it out.
Angels Without Wings
The Okmulgee County Humane Society rescued dusty. She immediately underwent surgery to remove her eye and several teeth. Luckily the shots to her ear and leg went straight through and only required cleaning and antibiotics. After her hospital stay, Dusty was placed in a foster home to heal and find a loving forever home.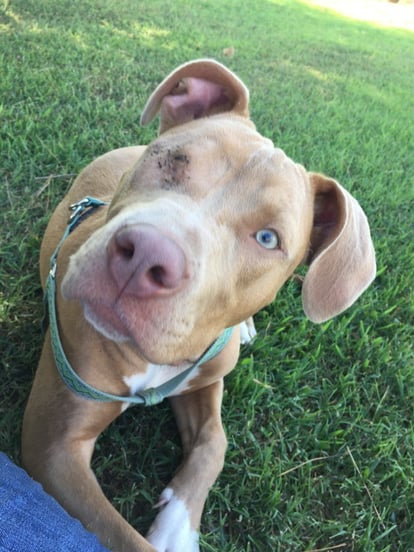 It is a great honor for Greater Good Charities to donate pet food to shelters and rescue organizations nationwide. These donations allow these groups to redirect funding budgeted for food to medical needs to save the lives of animals like Dusty.
Even Bullets Couldn't Stop Dusty from Chasing Her Bliss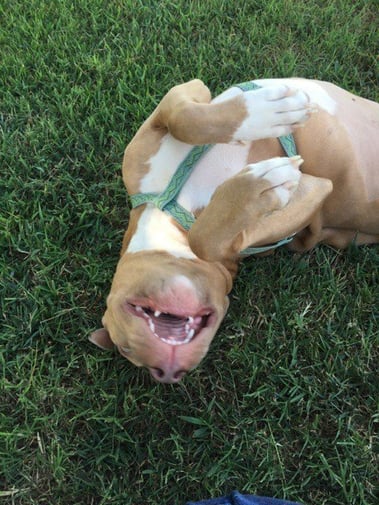 "Today Dusty is in her forever home with her sister Bianca. Her lost eye does not hinder her activities. The horrible treatment she received at the hands of a human has not stopped her from giving all the love she has to another human.

"If it were not for Greater Good Charities Rescue Bank, I know our organization would go broke trying to feed the many dogs and cats we rescue every day. With the money we save from Rescue Bank donations, we can get more dogs and cats spayed or neutered and ready for adoption." – Okmulgee County Humane Society