Rescue Rebuild Heard It Through the Grapevine
The Grapevine Animal Shelter reached out to Rescue Rebuild looking for help. The hot Texas Sun is always limiting the dogs' ability to run and play outside but this year was exceptionally hot. Dogs weren't able to go out and play as much because of the heat. Whenever dogs are forced to stay inside for extended amounts of time, they become overly hyper and rambunctious. Even if their usual temperament usually is calm and relaxed, they will take on a more playful personality until they can go outside and release their pent-up energy. They were desperate to find a solution, so they reached out to Rescue Rebuild in hopes of a solution.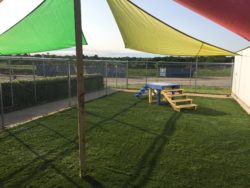 In April 2016, Rescue Rebuild loaded up the trailer, gassed up the truck, and drove over 6,000 miles to The Lonestar State. It was immediately upon arriving that we witnessed first-hand why they were worried about the dogs in the heat. It was scorching.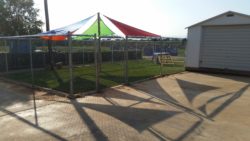 With plans drawn and material purchased it was time to get started. The first step was to install new turf in two of their outdoor play yards. This new turf will be cool to their feet and also won't require any upkeep! What newly turfed play yard would be complete without sun shades? These sun shades drape over the play yard providing shade and comfort to the dogs from that hot, Texas sun. Now the dogs will be able to play longer outside and letting their true personality shine through making them more adoptable! Because no play yard would be complete without new agility steps, we built out agility steps and new coyote rollers were installed making sure to keep the dogs inside the play yard.
No matter the distance, weather, or situation will keep Rescue Rebuild from helping those shelters in need. With these new improvements, more dogs will be able to play outside longer and more comfortably in the shade. A dog that gets regular exercise will make for a more happy and relaxed dog which is more attractive to potential adopters!