A New Home for Neglected Tigers
We sat down with the heroes from our Rescue Rebuild program to learn more about their latest build. For this one, the team headed to Colorado to construct a 50-acre habitat for neglected tigers rescued from roadside zoos. Here's what they told us: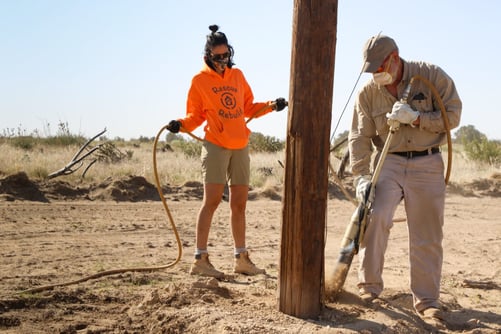 A Return to Colorado
"Last summer, our crew helped build 300 acres of natural bear habitats at The Wild Animal Sanctuary in Colorado. It provided homes for rescued bears previously neglected and caged. This summer, we returned to build a 50-acre habitat for tigers saved from Netflix star Joe Exotic's infamous private zoo. A huge thank you to our wonderful donors that made this project a reality!
Love and Space for Neglected Tigers
"It's not every day that Rescue Rebuild gets to do a project that is truly different from our norm! We love all animals, and most of the time, we're helping dogs and cats in shelters across the country. When the opportunity arose to return to this sanctuary and help more rescued animals, we could not pass it up.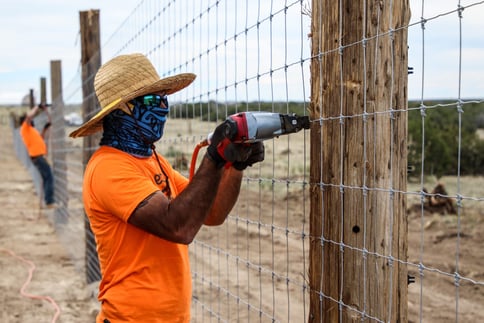 "The Wild Animal Sanctuary is a fantastic organization located outside Denver that primarily helps large carnivores such as lions, tigers, bears (oh my!), wolves and more. These rescued animals come from illegal roadsides zoos, neglect situations and other unsafe environments that prevent them from living as nature intended. The Wild Animal Sanctuary provides large-scale habitats where the animals can be relaxed, roam freely with others of their kind and enjoy a new phase of life that is stress-free!
New Land, New Beginnings
"When the sanctuary purchased a new piece of land in SE Colorado to expand its operations in 2018, it was the start of many years of construction to house hundreds of additional animals. We are honored to be a part of that process and traveled to the second location in Springfield, CO, to help build more habitats.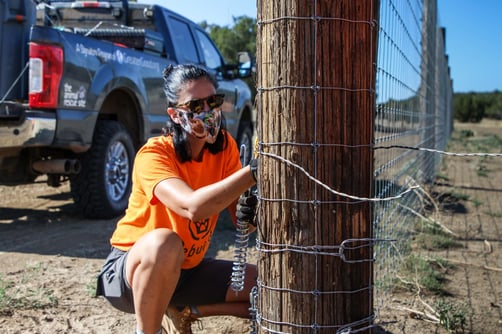 Sticking to New Safety Guidelines
"To keep everyone as safe as possible, we put all volunteers on hold until further notice. We decided to carefully put protocols in place to allow us to take on projects with just our team. While the world has changed a lot, the animals still need our help. And for that reason, we got back on the road and drove to Colorado. What an adventure that was! We followed all CDC COVID-19 safety guidelines and protocols to keep the sanctuary staff and our team safe.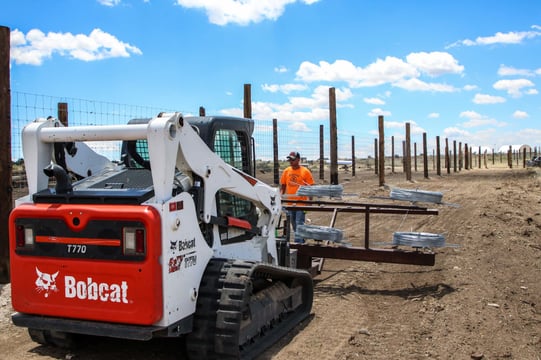 Sunscreen, Staples, Skid Steers
"Our first week consisted of setting telephone poles, tamping the dirt to secure them, installing insulators on every pole and prewiring the ground wires. Week two was wire week! The team stretched 8′ fencing around the habitat and installed eight hot wires around the habitat's perimeter. In total, we installed over 13,200 ft of fencing. Before we left, we even got to build the tiger dens! Our time at The Wild Animal Sanctuary consisted of lots of sunscreen, staples and time behind the skid steers.
"When we left, the team there only had some finishing touches before the habitat was ready for a final inspection to allow them to bring in the animals! It felt great knowing that we created a new space that would provide relaxation for the neglected tigers that will call this land home in the coming months."