Rescue Rebuild Goes to West Virginia
Did you know nearly 50% of pet-owning victims of domestic violence delay leaving their abuser because they are afraid to leave their pet behind, and less than 10% of domestic violence shelters accept pets? Rescue Rebuild strives to fix that disparity and make sure as many shelters as possible have their doors open to both survivors and their 4-legged family members. One shelter at a time…and we got to check one more off the list!
Where To, Crew?
Last month our crew headed to West Virginia. The YWCA Resolve Family Abuse Program wanted to open their doors to pets, and we were absolutely thrilled to be a part of it. To keep everyone as safe as possible, all volunteers are still on hold. We put careful protocols in place to allow us to take on projects with just our team for the time being. The world has certainly changed a lot, but the animals still need help! While on builds, our team follows all CDC COVID-19 safety guidelines and protocols to keep us and the shelters we work with safe.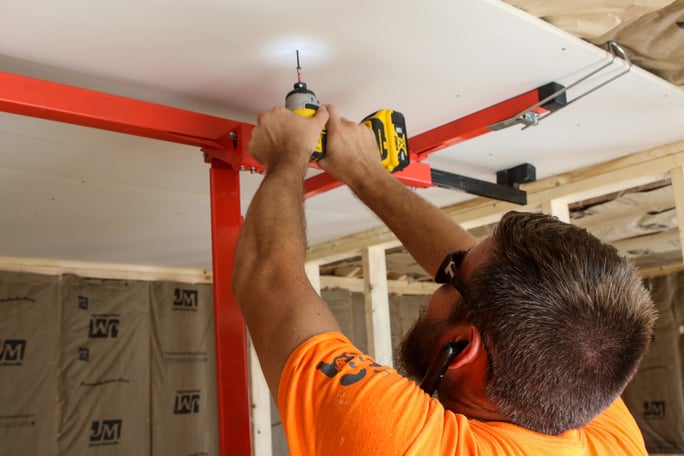 Getting to Work
Our crew put down two sheds and created four different pet retreats within them. Each shed building is divided into two pet living rooms/visitation spaces. When delivered, the sheds were only studs. That means we got to finish them out with flooring, drywall, FRP, paint, furniture and décor! Each room has its own pet relief areas outback that the pet can get to via doggy door.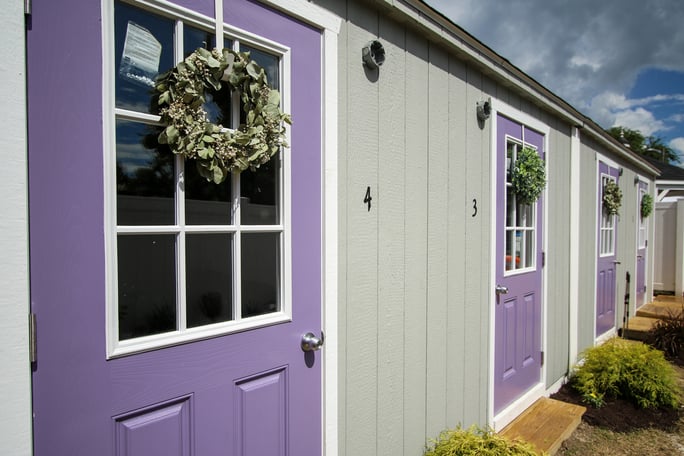 We catified two of the four rooms with shelving and perches. There are many dog and cat siblings, so we made sure that all of the rooms are filled with enrichment as well as items for proper care like dog bowls, beds, training crates, treat containers, toys and more! Our goal was to make these spaces as homey as possible, for both the pet and pet owner.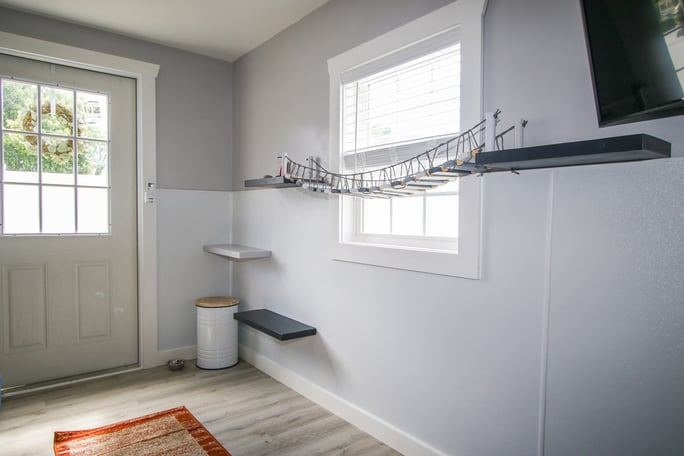 Oh Yeah, People Too
So, let's not forget about the humans too! All rooms have couches, TV's, coffee tables, and storage cabinets. To give these pet condos the privacy they deserve, our crew also installed fencing along the perimeter. Adding landscaping was the finishing touch; flowers, bushes, and shrubs galore! We cannot wait to see the first tenants arriving soon!
Support future Rescue Rebuild builds!