Rescue Rebuild Renovates Cat Rooms for Arizona Shelter
Earlier this month our Rescue Rebuild crew headed west again - this time they rode in a UHaul full of cat enrichment furniture to sunny Arizona to make a positive impact for some four-legged friends there. And with September being national "Happy Cat Month," there was no better time to get to work enriching these cats' lives!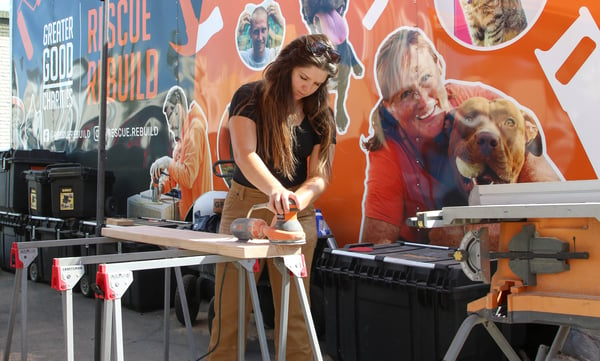 Lost Our Home Shelter in Arizona already had five existing cat rooms but wanted to do a makeover to make these cats more adoptable, as well as getting them acclimated to at-home living instead of feeling like a normal shelter. So to accomplish this goal, their existing cat rooms were designed to each replicate a different room in a house. One room was a master bedroom complete with a wooden bed with cubbies built into the headboard as well as shelves and dresser drawers for the cats to hide and play in. Another room's theme was a kitchen and no kitchen would be complete without a fridge, oven, and kitchen table! The Rescue Rebuild team built a version of each to give these cats a real feel of what it's like to live in a home, while also enriching their lives as they wait to be adopted from the shelter!
The other three cat rooms stayed on theme as well, being modeled after a living room, kitten room, and community playroom. These rooms not only provided great enrichment for the cats but also provided functionality for the shelter. As is the case with many shelters, storage space is always at a premium and these rooms were designed to help the shelter with just that. The bed, oven door, benches, and couch all open to give the shelter staff more space to store any extra things they may need.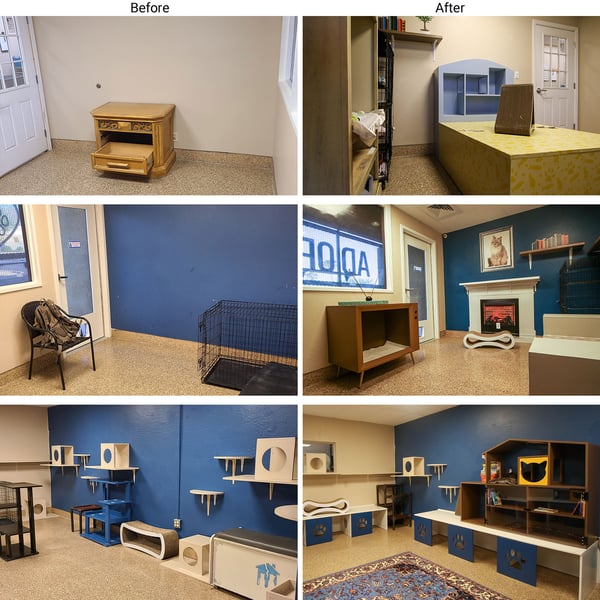 This project was also unique because it was the first time our team has used vinyl decals to decorate a shelter. The decals were designed as common household items such as a nightstand, fireplace, fun portraits of cats on the wall, and even a decal made to look like a fridge full of food! The decals not only made the rooms more realistic and on-theme but also added a lighthearted feel.
In just about a week, these cat rooms got a complete facelift thanks to the hard work of our team but especially thanks to the dedicated volunteers who were willing to brave the hot, Arizona sun to help these cats!
Your donation allows Rescue Rebuild to continue to improve the lives of animals and people through creative renovation projects!