Rescue Rebuild Updates South Carolina Shelter to Bridge the Gap for Pets of People in Crisis
Providing safe housing for pets of victims of domestic violence is critical to getting them to safety. Nearly 50% of pet-owning victims of domestic violence delay leaving their abuser because they are afraid to leave their pet behind.
That's why in May our Rescue Rebuild team traveled to South Carolina to work with Marlborough County Humane Society and make it the only shelter providing this service in an 11-county area of South Carolina.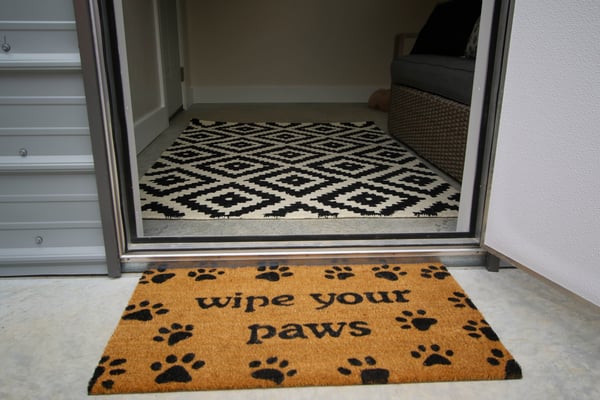 As the team pulled in to park their trailer next to the newly built Marlborough County Humane Society metal building, they knew it was going to be a hot few weeks. Part of the crew started to layout the kennels outside on the concrete pad while others started to prepare the interior framing. They quickly realized they made the right decision by ordering two air conditioning units for the building instead of just getting one. The structure was bare besides insulation, so the crew had to do everything in just over a week!
This included
Sealing the floor
Adding framing
Adding a new wall (with a door)
Adding drywall and FRP
Cutting out five dog doors
And more!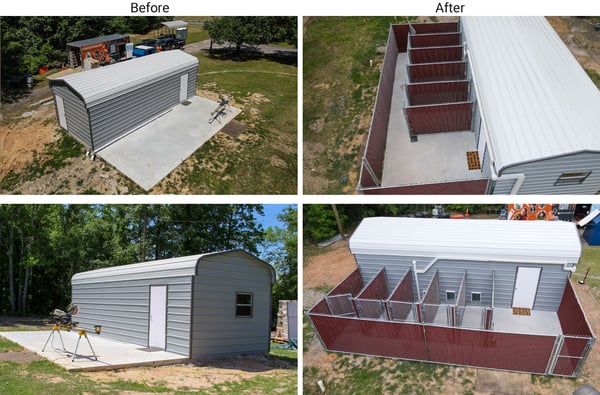 Suddenly the barren building was about to become a refugee for pets with a shiny new space for survivors and their pets to rest and recoup.
Now, when you walk into the building, you see five shiny kennels and a visitation room. Take a peek around the back, and each kennel has an outdoor run with it its own lockable door – safety first! The visitation space in the room adjacent to the kennels was built right into the plans because owners will want pets to be a part of their healing. The simple addition of a comfy couch, rug, and TV will be a warm welcome for people and their pets.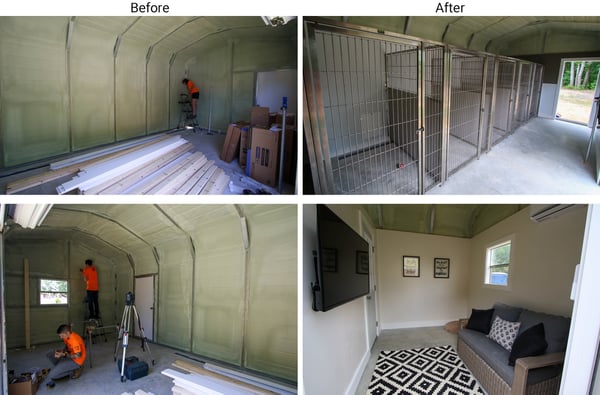 The staff at the humane society will be able to care for the animals without too much extra work because everything has a cleanable surface. We hope that this program can be a model for how animal shelters can help to bridge the gap for pets of people in crisis for communities without pet-friendly options.
Thank you for your support! Projects like this only happen because of you!