High-Quality, High-Volume Spay/Neuter and Vaccines and Gratitude in Puerto Rico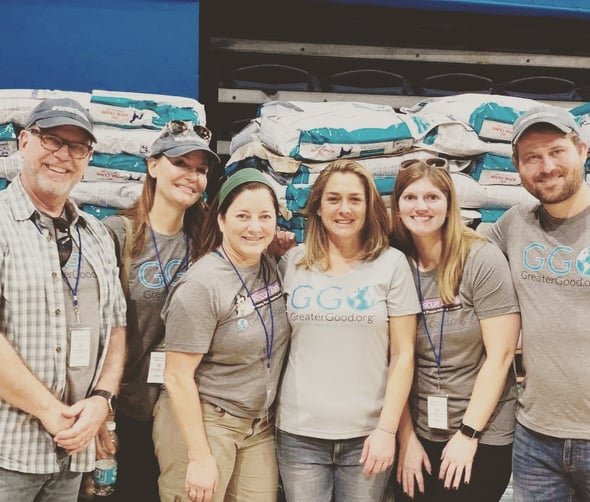 My colleagues and I just returned from Puerto Rico where we have been heavily involved in helping People & Pets since Hurricane Maria devastated much of the island in 2017. We checked in on several partner groups in San Juan before heading to Bayamón to meet up with the Humane Society of the United States (HSUS) and Tara Loller, who orchestrated and led the effort for Round 3 of the Spayathon for Puerto Rico.
Post Hurricane Maria, the need for veterinary care in Puerto Rico rose dramatically because as people fled the island, many had no other choice but to leave their pet behind. Because of this, the homeless population of dogs and cats on the island exploded. Tara, who had been working in Puerto Rico for some time, asked us to get involved in response to this crisis. Her vision was simple – bring no-cost high-quality, high-volume spay/neuter and vaccinations to pet owners on the island.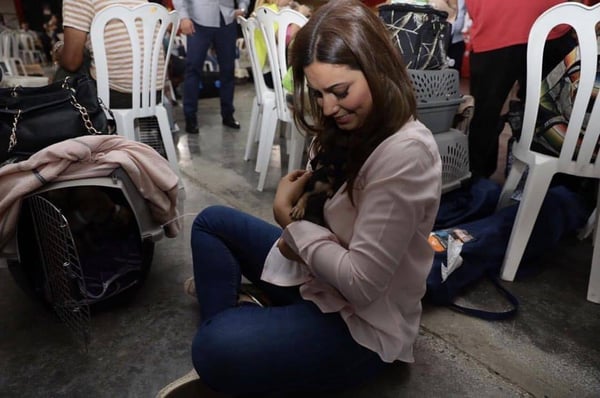 First Lady Beatriz Isabel Rossello in Cidra, Puerto Rico
Since then Tara has quite literally assembled a small army of 26 coalition partners, including GreaterGood.org, to see her vision come to light. She also enlisted the help of Puerto Rico's Governor Ricardo Rossello and First Lady Beatriz Isabel Rossello, both animal lovers, who clearly understand the human-animal bond—who understand that caring for animals elevates an entire community. The First Lady commented that she learned this at an early age from her mother who let her care for stray dogs and go door-to-door after school finding them homes.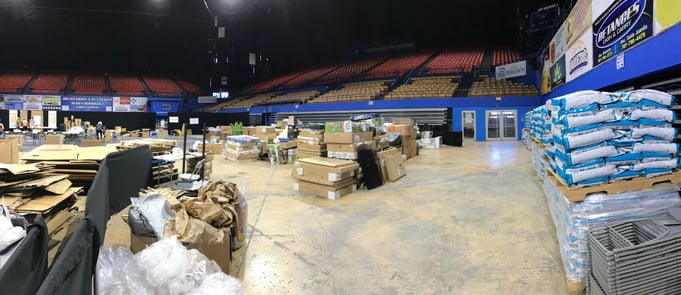 There were eight clinics across the island running simultaneously for seven surgical days each, manned by the best-of-the-best rockstar volunteer surgeons and veterinary technicians. I personally visited the largest site in Bayamón where they performed as many as 600 surgeries a day, with surgical team ViDAS partnered with ground team Puerto Rico Dog Fund/Wild at Heart Foundation, and Cidra a more remote location, with surgical team Emancipet partnered with ground team Humane Society of Puerto Rico. On the winding drive to Cidra I tried to imagine what up to 600 dogs, cats, and people in one room waiting for veterinary care would be like. Would sound like? When we walked through the door, I paused not to the sound of dogs barking, but to the silence (and laughter). Both the Cidra and Bayamón locations were well-oiled machines. They had it down from intake to pre-op to surgery to post-op to discharge. It was quite literally amazing.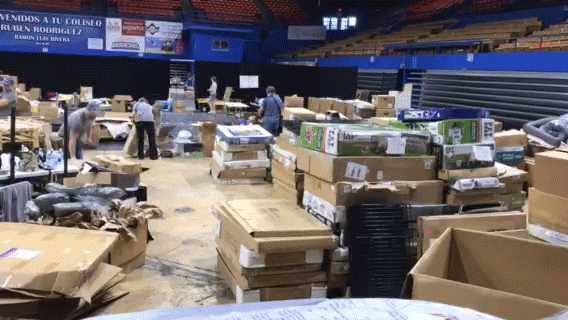 Team setting up in Bayamón
One thing is clear, the people of Puerto Rico love their pets. When offered access to free health care and spay/neuter they jumped. They showed up in masses with herculean resolve driving many hours, standing in line many hours, and waiting their turn many hours. Happily. Joyfully. With gratitude. This was not a drop-off-your-pet-and-return-hours-later operation. The pet owners were required to remain with their pet and assist in their recovery once they were safely out of anesthesia. There were no cages and the pets woke up in the loving arms of their family.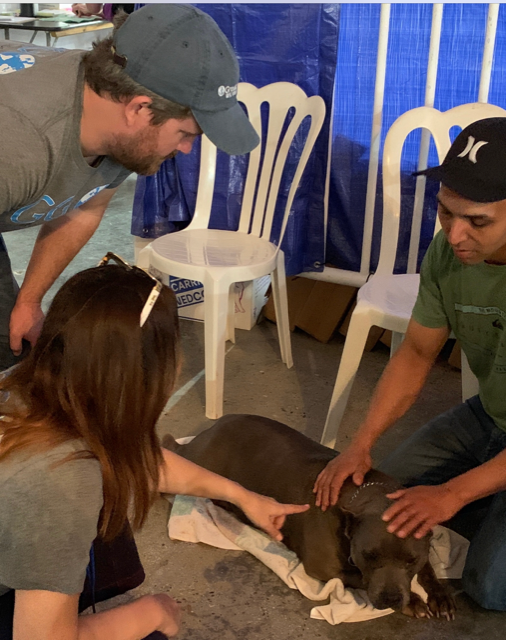 Liz Baker, CEO of Greater Good Charities and Noah Horton, CMO of Greater Good Charities meet Diamond in Cidra, Puerto Rico
I want to personally thank our partners The Animal Rescue Site, Chewy.com, and Royal Canin whose donations allowed Greater Good Charities Rescue Bank* program to provide participating families with much-needed food and supplies, and Boehringer Ingelheim who donated critical medication to assist the veterinary teams on the ground.
*Rescue Bank is now the Greater Good Charities GOODS program!
Flying out, observing the beauty of Puerto Rico from the air beneath the left-wing, I felt overcome with gratitude for the experience and a real longing to return. GreaterGood.org was there because it matters, and we will return because it matters, it's important, and it is working. We are committed to Puerto Rico and proud to be part of the HSUS coalition. Spayathon Round 4 is already being planned for May 2019 with the goal to spay/neuter and vaccinate 30,000 pets this year, and knowing Tara, she will reach that goal.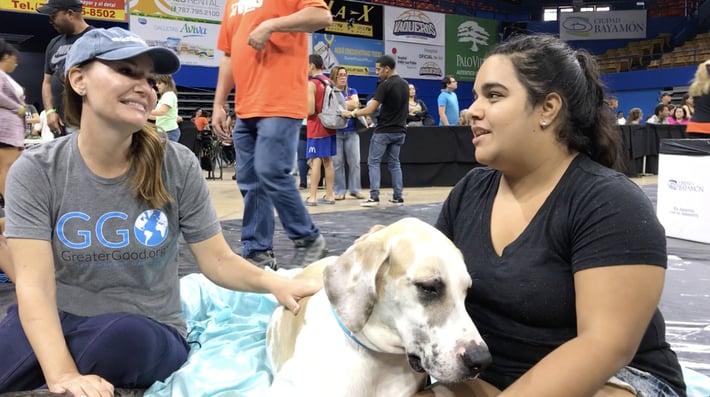 Liz with Elisabeth and her dog, Lucio in Bayamon, PR
I also personally vowed to bring my daughters to witness Puerto Rico, the magnificence of her land, the crystal blue seas, the rich culture and architecture, and most importantly to meet the gracious people, who have endured so much, alongside their happy, healthy pets.
Gracias, mi hermoso Puerto Rico, estás en mi corazón.
P.S. I just saw the final number this morning for Spayathon Round 3, over 8,513 spayed/neutered and vaccinated!!!! Tara Loller – will you be on my zombie apocalypse team?
If you are on social media check out #Spayathon4PR.
Spayathon Coalition Partners include:
The HSUS, the Office of the Governor of Puerto Rico, the Office of the First Lady of Puerto Rico, Junta Examinadora de Medicos Veterinarios de Puerto Rico, Colegio de Médicos Veterinarios de Puerto Rico, Maddie's Fund,GreaterGood.org, Rescue Bank, a program of GreaterGood, Banfield Foundation, PetSmart Charities, Petco Foundation, University of Florida Maddie's Shelter Medicine Program, Emancipet, ViDAS, Veterinarians for Puerto Rico, Maddie's Shelter Medicine Program at Cornell University, Helping Paws Across Borders, Humane Society of Puerto Rico, the Sato Project, the Puerto Rico Dog Fund, Friends of Culebra Animals, Wild at Heart Foundation, Our Big Fat Caribbean Rescue, Santuario de Animales San Francisco de Asís, Coalition for Animal Rescue, the 20/22 Act Society, Best Friends Animal Society and the Doris Day Animal Foundation. Special thanks also goes out to Boehringer Ingelheim, LupinePet, Dechra Pharmaceuticals, Pet King Brands, Royal Canin, Chewy.com, Project Vets and Pet Food Centers of Evansville, Indiana, for providing critical supplies.