Good Packs Teams Up with WAHL to Help 369 Chicago Veterans
This summer in Chicago hundreds of veterans experiencing homelessness attended a Chicago Standdown event for free access to essential grooming services and more! The Chicago Standdown is a local organization which assists veterans (25,000 and counting!) in obtaining what they need to improve their lives. The event was a huge success and provided amazing services from employment assistance and medical screenings to meals and grooming services!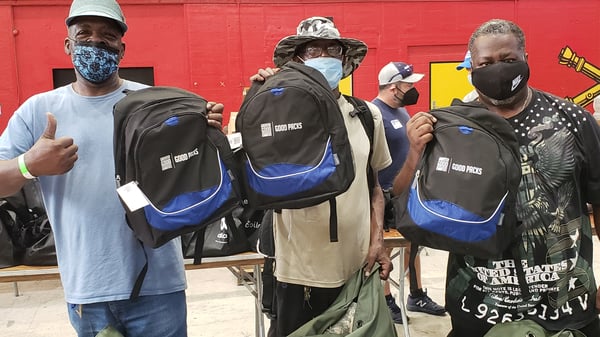 Photo © Jesse Brown VA
Greater Good Charities' jumped at the chance to be a part of Chicago Standdown's event and provide additional support for veterans experiencing homelessness with Good Packs. We provided 400 Good Packs filled with necessities like toiletries, warm blankets, and reusable water bottles, as well as 150 Pup Pouches containing survival and comfort essentials for companion pets. Good Packs were created to help those experiencing homelessness move forward with everyday necessities and dignity.
We also partnered with WAHL, a company that makes grooming products and provides grooming services to those in need, for the Chicago Standdown event. WAHL gave out 400 beard trimmers (valued at $19.99 each) and parked its 20-foot mobile barbershop at the event and offered FREE haircuts and beard trims. This seemingly simple service can go a long way to help each person have a fresh start!
Check out this video from Wahl's Mobile barbershop of the event!
Greater Good Charities and our partners served 369 veterans and their pets at the Chicago Standdown event! This would not be possible without the help of you and your generosity. Thank you, your donations have a real impact on our country's heroes especially those experiencing tough times.