20 (Won)derful Species You Helped in 2021
While 2021 was filled to the brim with disease and disaster there were so many pawsitive outcomes from the year that would not have been possible without you. We are experiencing a biodiversity crisis, with one in five species facing extinction, but because of your donations, we were able to assist and protect so many!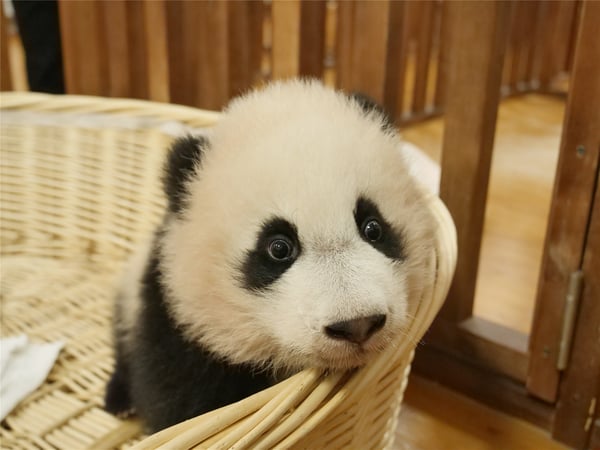 © Pandas International
There were many animals, insects and everything in between that benefited from your efforts, and because of you, our planet has improved. Check out this list of the species you helped below and click on them to learn more:
Pangolin

: With our partner, Wildlife At Risk, we built an enclosure for the vulnerable and highly poached Pangolin. The enclosure allows us to protect this amazing animal while also monitoring and studying their behavior to learn new ways to keep them safe.
Bees

: Greater Good Charities is dedicated to saving the Bees as they are essential to our planet and our future. We have been working with Borderlands Restoration Network to restore the Bee's habitat- specifically by planting wildflowers in Southern Arizona to attract pollinators. Thank you for your donations and BEE-ing a part of the change.
Rock Horned lizard

: We, at Greater Good Charities, believe how crucial it is to discover and study the unknown in an effort to conserve and protect our environment. We do this through our program Madrean Discovery Expedition. Our team of herpetologists, those who study amphibians and reptiles, visited one of the Madrean Sky Islands to learn more about the Rock Horned Lizard.
Amur Leopard & Tiger

: According to FairPlanet, only 100 wild Amur leopards are left in the world, and Russia's Wildlife Conservation Society estimates that only 350 adult Amur tigers remain in the wild. However, your generous donations to Project Peril have also immensely helped protect the lives of Amur leopards and tigers through the Phoenix Fund and the Land of the Leopard National Park in the Far East region of Russia.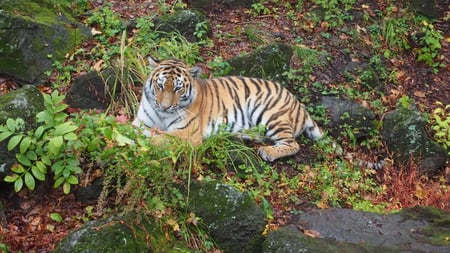 Photo © Pheonix Fund
Giant Panda

: Pandas International has also received significant funding to save the lives of giant panda cubs in China, thanks to you. Some giant panda mothers do not know how to properly care for their firstborn cubs or are not able to produce enough milk to provide their cubs with nutrients. Therefore, cubs are provided with Esbilac formula and raised with the help of nursery staff until they are old enough to live off bamboo.
Sumatran Elephant

: There are only about 2,400-2,800 Sumatran elephants left in the world due to increasing rates of poaching and deforestation (

World Wildlife Fund

) Because of generous donors like you, Greater Good Charities'

Project Peril

has granted funding to the

International Elephant Foundation

to protect the livelihoods of Sumatran elephants. Their programs focus on habitat loss, wildlife rescue and care, human-wildlife conflict, and illegal wildlife trade.
Asian Elephant

: The rate of Asian Elephants is on the decline, and has dropped by 50% over the last three generations. GGC, through Project Peril, partnered with Elephant Nature Park to rescue Asian elephants from abuse and exploitation and provide a sanctuary for them to live out their lives in peace.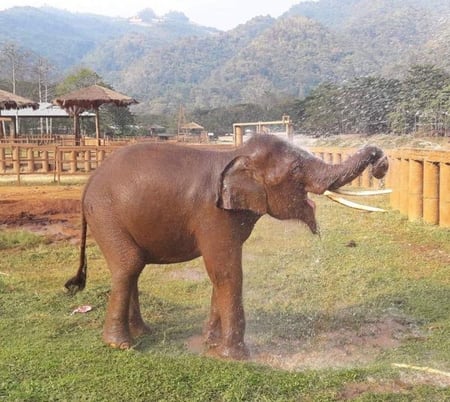 Photo © Elephant Nature Park
African Rhino

: Project Peril was able to work with the

International Rhino Foundation

(IRF) to raise funds for emergency support to help protect African Rhino's. IRF used those funds to help pay for on-the-ground expenses to maintain the protection and monitoring programs needed to ensure rhinos' survival.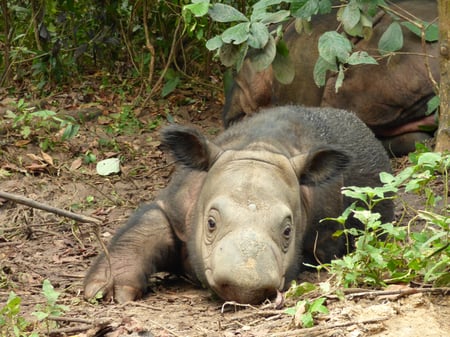 Photo © International Rhino Fund
South American Tamarin

: Together, we've purchased and protected 2,179 acres of land in South America to stop deforestation and protect the critical habitat tamarins depend upon to survive. This area is where the cotton-top tamarins live, one of the most critically endangered primates in the world.
Snow Leopard

: About one snow leopard is illegally poached every day. That's why

Project Peril

teamed up with

Snow Leopard Trust

to protect livestock in the hope to secure the future of snow leopards. With your donations, Greater Good Charities partnered with Snow Leopard Trust for a livestock insurance program in Mongolia to provide direct compensation to herder families who lose valuable livestock to snow leopard predation.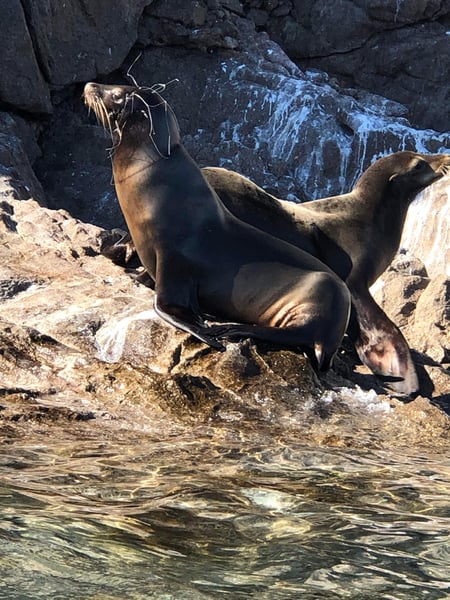 Photo © Greater Good Charities
Monarch Butterfly: the U.S. Fish and Wildlife Service reported that monarch butterflies qualify for endangered status but did not make the priority list for protection. Because of your generosity and people like you, we can plant 2,524 trees through our partner La Cruz Habitat Protection Project this season to help protect our monarchs.
Bats

: Two species of bat at risk are the Mexican long-tongued bat and the lesser long-nosed bat. Both feed on agave, saguaro cacti flowers, and other Sonoran blooms. Donations from people like you allowed Project Peril to award a grant supporting Borderland Restoration Network Agaves for Bats program

.
Photo © Borderland Restoration Network
Birds

: The TreeHouse Wildlife Center in Illinois has needed donor support to fund their Wildlife Rehabilitation Program in which they care for grassland birds, waterfowl, and raptors. With your help through funding, over 120 feathered friends in need of patient care, food, and shelter have received proper sustenance and treatment. This helps the birds recover and hopefully transition into the wild again.
Sumatran Rhino

: The Sumatran Rhino needs our protection, as they are one of only two rhino species large enough to reproduce and thrive in the wild. The Sumatran Rhino also relies heavily on a large rainforest to roam and graze. Without supporters like you, who have allowed Greater Good Charities to grant our partners at

International Rhino Foundation

the funds needed to help rebuild their rainforest, they would not survive.
Ocelot

: Are beautiful, apex predators with spotted fur to help keep themselves camouflage. They are considered endangered species thus protected by Mexico and The U.S. This is why Greater Good Charities utilizes our program, Madrean Discovery Expedition, to learn more about the Ocelot in the hope of better protection.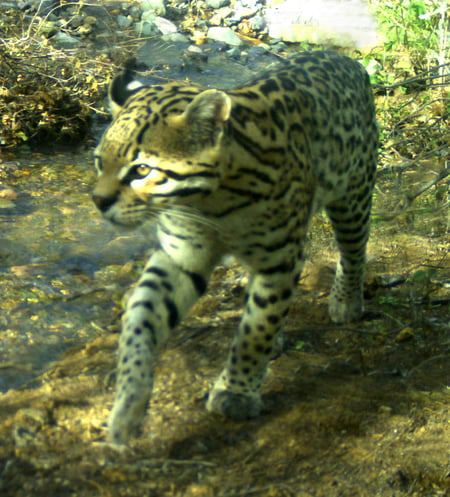 Photo © Greater Good Charities
Cheetah

: Cheetahs once roamed many corners of the earth but now are considered Africa's most endangered cat. We're working with our partners to protect land in parts of Africa, raise awareness for cheetah conservation, and save cheetahs from illegal poaching. With your support, we have helped fund the rescue of these cheetah cubs from smugglers who took them from their natural habitat.
Sea Turtle

: When the Texas Deep Freeze swept over the Lone Star state South Padre Island in Texas was hit hard when the rapid drop in temperatures put more than 5,300 sea turtles in jeopardy. Our partner, Sea Turtle, Inc successfully released more than 2,200 previously cold-stunned turtles back into the open ocean of the Gulf of Mexico in late February.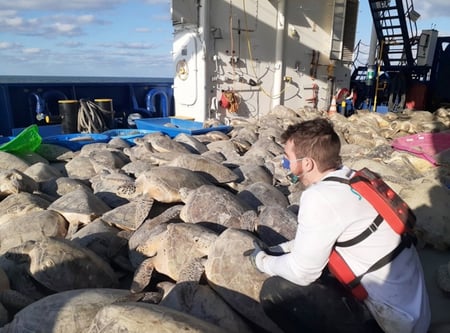 Photo © Sea Turtle Inc
Tiger

: There are currently over 25,000 animals in the Captive Wildlife Crisis, just in the U.S. Because of this, Greater Good Charities, with our partner The Wild Animal Sanctuary, built a 50-acre tiger habitat that will be home to 5-7 tigers that were rescued from Joe Exotic.
Platypus

: Project Peril partnered with

Taronga Conservation Society Australia

. With funds raised from Greater Good Charities and the Morgridge Family Foundation, a platypus refuge, rehabilitation, and reproduction facility will be constructed at the Taronga Zoo in Sydney, Australia.
Thank you for all your support this year! We can't wait to Amplify the Good with you in 2022!